Pregnant Mumma's, this is your chance to have your Boho Pregnancy sessions documented, from early on, all the way through to your due date!
Why Boho styling?
I've carefully chosen a soft, feminine, Boho feel for your sessions. Timeless, neutral colours and limited props, to provide you with classic, beautiful images of your pregnancy.
Come to the studio for your Boho Pregnancy sessions each month, as we capture your growing belly in the most beautiful Boho style.
You'll love looking back at your pregnancy sessions, with the most unique, modern timeline!
Our extensive Maternity Studio wardrobe is provided for you, free of charge! So, come and have a look through our 50+ beautiful outfits, and choose an outfit you'd love to wear each month, or mix it up with different styles.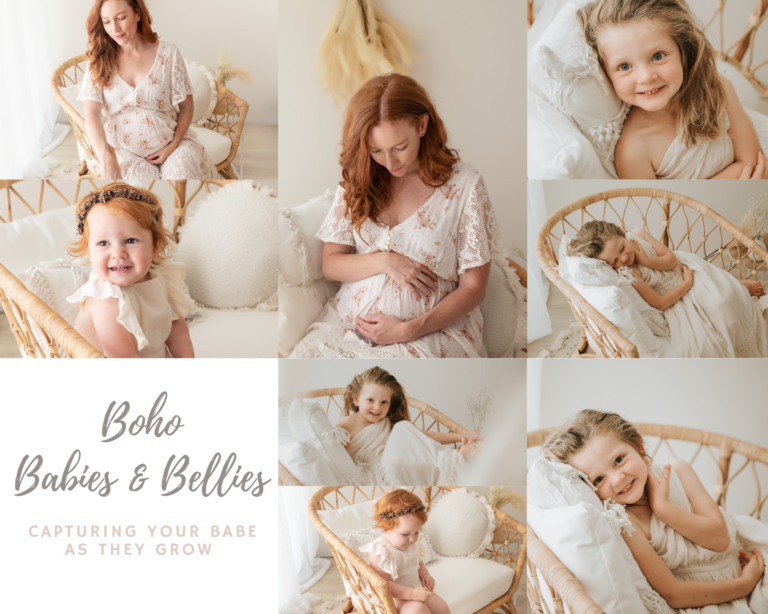 Boho Pregnancy Bellies session : 10 minute session | $39 | 3 Digital Images
Boho Babies session: 10 minute session | $39 | 3 Digital Images
Your Boho Pregnancy or Boho Babies session includes 3 Digital Images, chosen by the Photographer, and sent to you via Digital Download.
Join me in the Studio each month as we capture your growing baby, for only $39!
Your babe can be any age at all – newborn, toddler, or older children!
If you've had your pregnancy sessions photographed, keep it going with your precious newborn, so we can capture baby's first year, as they grow.
The setup remains the same each month, to keep your photographs consistently beautiful.
Book your time slot in advance, and drop into our Studio on the day at your chosen time.
Just choose your time slot in the calendar below, and get ready for some gorgeous photos!
We've had so many gorgeous little babies and Boho Pregnancy bellies visit for their Boho sessions, it's so exciting to see our babies as they grow!
See you soon, for your Boho Bellies and Babies session. I can't wait to meet you. 
Claire xo