So there's this competition that happens once a year, where professional Photographers from Australia-wide gather together at APPA (Australian Professional Photography Awards). To be a member of the AIPP (Australian Institute of Professional Photography), you firstly have to be working as a Photographer for 2 years, then submit something like 20 images to the board panel, and then ONLY if they like them – you firstly become an Accredited Photographer in the AIPP. Phew.
Within the AIPP, they have 2 competitions each year, the State awards (Qld being the ones I enter), and APPA (National awards).
(Of course this is all optional… there's no pressure to enter awards, it's totally up to us, and I find it more tailored to our creative side, something to personally strive for and really create something amazing, aside from our usual client work).
So with fresh-faced confidence I entered my first APPA in 2012 and crazily earned my first Silver – amazing! 🙂
I skipped 2013 when I was on maternity leave with my youngest, and unfortunately 2014 I bombed out completely… as in, entered 4 images, and none of them scored. Ahhh, the disappointment. Back to the drawing board.
So this year I was excited to start afresh and enter APPA, and then the rules changed! Firstly to make it harder/more exclusive to enter APPA (Nationals), we firstly had to enter QPPA (Queensland State awards), and qualify there with at least 2 images scoring. Oh.My.Gosh. If we don't enter the State awards, or don't score – we cannot enter APPA……. So I put my big-girl panties on, entered 4 images, and walked away with a Silver and a Silver Distinction. AND, I qualified for APPA. Hooray!
Heading into APPA after the State awards, I knew what I wanted to enter. I knew what I wanted to shoot, how I wanted it to look like. I sketched over and over again, filling my sketch book with ideas and inspiration, I knew what I wanted. And THEN…… I realised, with the deadline looming, I realised I had totally forgotten to choose what category I wanted to enter. You can enter only 4 images into APPA, and if you want to go into the running to take out the category (ie. WIN the category), you need to enter 4 images in that category. That's always my goal (and one day I will reach it!!!), and I realised that I HAD to enter the Family category (images that I'd photographed from paying clients), instead of the Portrait category that I had hoped for (non-commissioned images), because I didn't have enough images for Portrait category.
So a few days before cut-off, I entered the Awards with 4 images into Family category. I'm still amazed I even fulfilled the requirements and got my images ready on time, as I also battled Influenza B virus that week, and was flat on the couch in total exhaustion. Somewhere in there, I managed to drive to and from 3 printers and labs, picking up prints and matts, packaging up everything, and getting to Australia Post on time. A crazy week.
This past weekend, I flew to Melbourne with the hope of scoring at least 2 awards. I don't tend to get nervous in awards, because it's very subjective – it's all what those judges at the time, think. The same images can score differently in another competition, so you're never quite sure what will happen. You just hope to hell that one of those 5 judges on the panel see what you hoped they'd see, and reward you for your effort.
I sat through about 8 hours of judging, on and off, in 4 separate rooms. You don't know when your images will be judged, within hundreds of other images. Inside the judging room, there's a panel of 5 judges and 2 commentators. There's also a TV, showing images that are currently being judged in the other rooms, and their scores. So basically, you sit there waiting for hours, darting glances between the judges and the TV every minute, watching to see if your print is being judged in another room – and if it is, and you see it in time, you can hightail it out of your chair, into the other room, and see it being judged live, because sometimes the judges chat about the image, critique it, and rally for a higher score. But mostly, it's silent judging. They look at the print, they type in their score – you hold your breath.
While I was waiting, this image of mine popped up first. This is beautiful little Gracie, whose image also won Silver at QPPA (State Awards) this year, and Grand Champion at the Pine Rivers Show 2015, and is part of the reason I qualified for National awards. So glad I was able to enter it one last time.
Beautiful Gracie. Silver Award = 81 points.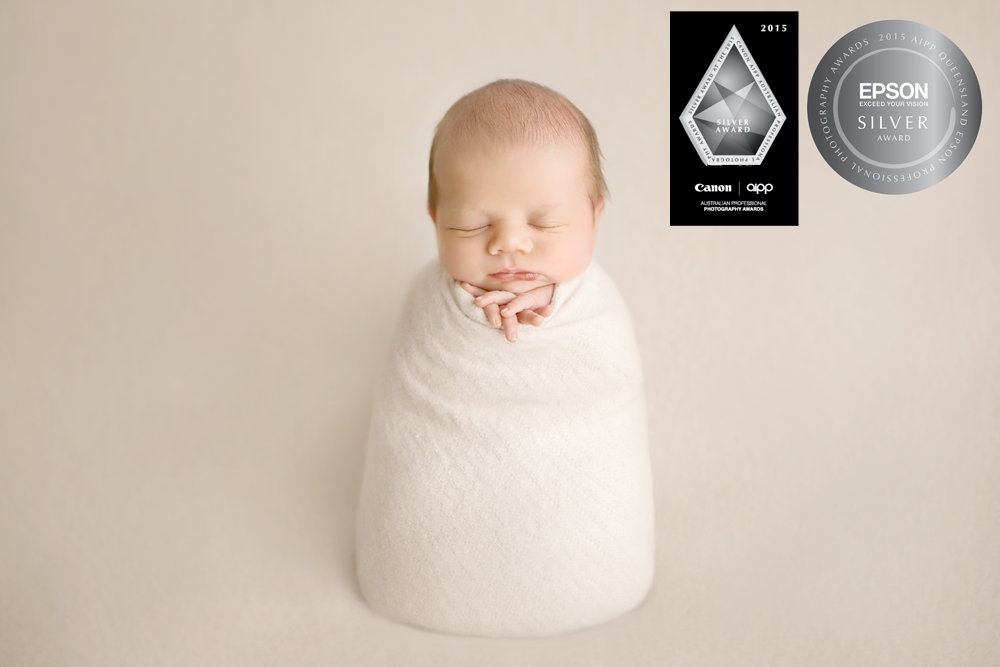 This next image was something I planned out months ago, one of my crazy sketches. I wanted to photograph a baby in the womb…… but how on earth do you do that?! I wasn't even sure how to photograph it, so it started out as a model call, where I photographed mum Adrienne in different poses, trying to find the one that would work for the final image. Then I was so lucky to be asked to photograph their beautiful baby Hannah when she was born, and again we curled her up to represent a baby in the womb, and was able to construct the rest digitally.
Thankyou Adrienne & little Hannah! Silver Award = 83 points.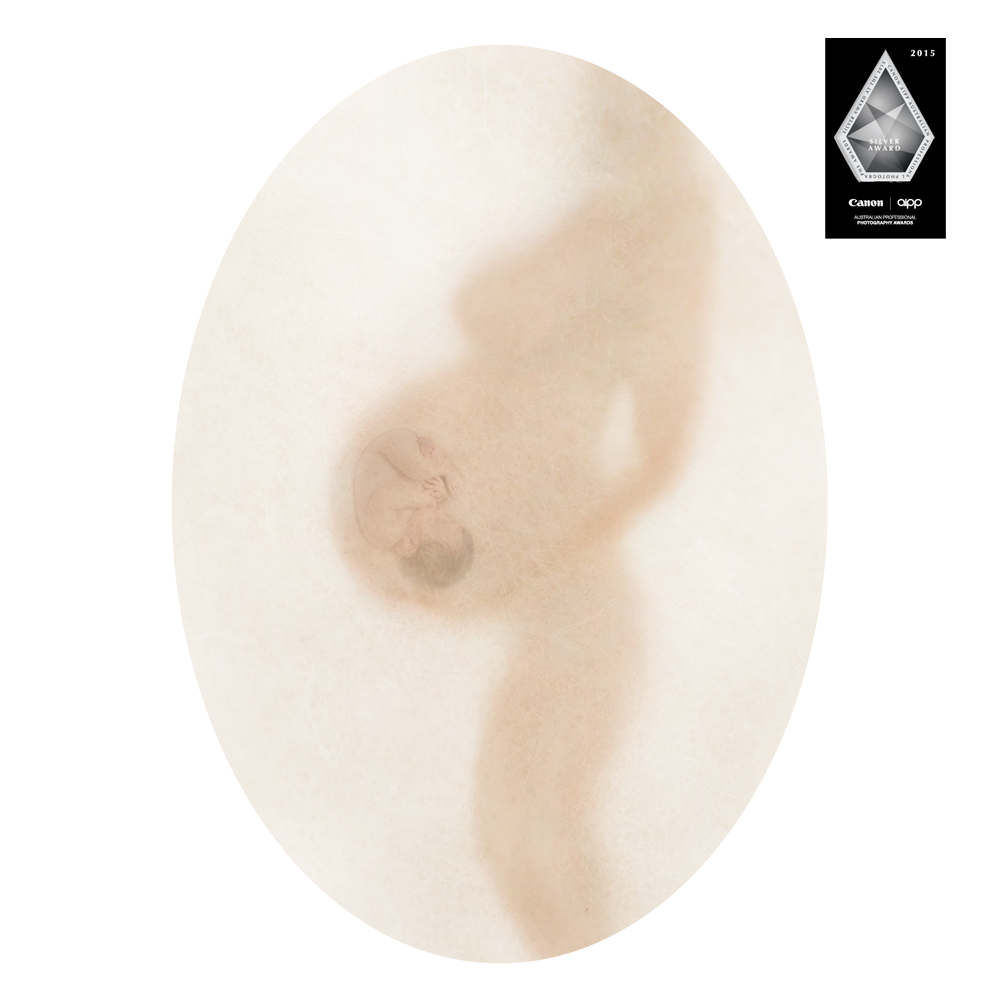 When I photographed this gorgeous little client, and her equally cute puppy, I just knew that I could turn it into something special. Beautiful little Elsa was a gem through her session, and big furr-brother Ichigo was happy to sit for at least 3 seconds before jumping out of the basket. (This image is a composite of about 4 images, and the baby and dog were not sitting together originally. Safety first!)
Elsa & Ichigo. Silver Award = 82 points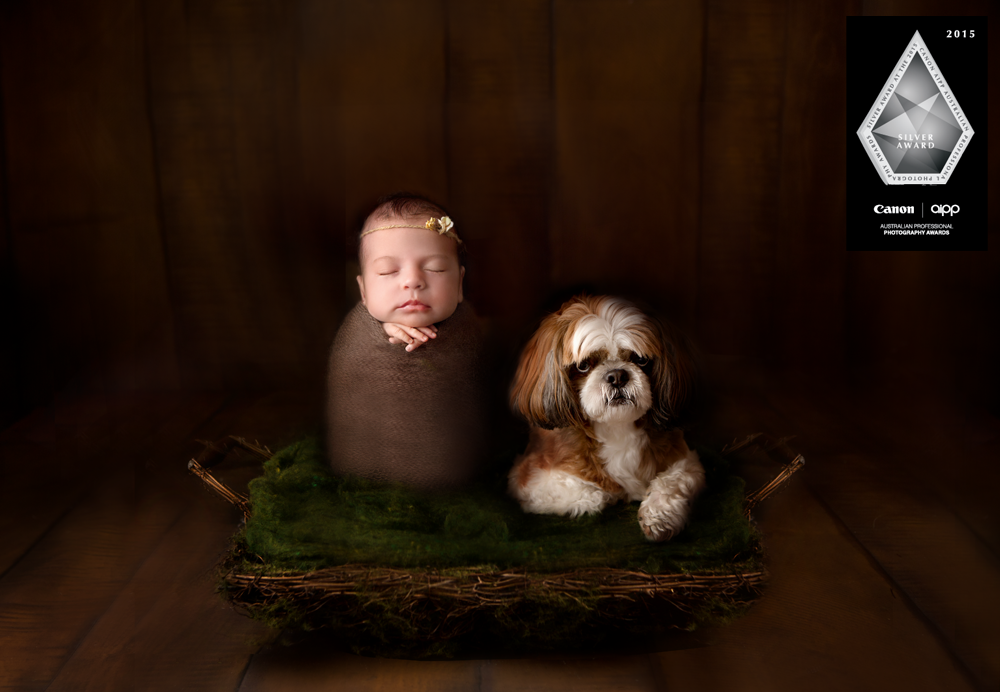 So there they are! Three beautiful images of my amazing clients (thankyou, thankyou, thankyou) – and 3 Silver Awards.
Next year I'll be bringing ALL I have to APPA, as I'm now only half a point away from earning my Associate (the first title on the way to becoming Grand Master…. maybe when I'm 50, hahahha).
Thankyou to every single person I've photographed, clients, models, family, friends. You've all helped me strive to be a better Photographer, and I am so privileged to work with you all.
Claire xoxo
0