Your Baby's Cake Smash is such a celebration for your little one!
I first met little Danika and her parents months ago at the Essential Baby Expo earlier this year when she was only a few months old! They loved the look of our Sitter baby photographs we had on display, and pre-booked Danika's 12 month Cake Smash session on the spot. It was so nice to see her a couple of weeks ago, all grown up as a big 12 month old!
Baby's first year
As a parent, your baby's first year is just so amazing. Crazy, amazing. Your baby has grown so, so big in only 12 months! Baby has gone from being a fresh little newborn and only 3-4kgs, to a crawling, walking, blabbering, fist-grabbing, hair-pulling, food-spitting, big-grinning, teething, gummy little person! It astounds me every time I see my little clients come back in the door at 12 months old. How did they even grow so fast!
Your baby's 12 month milestone is huge – and not just for your babe! YOU as a parent have survived, too! You've nurtured, cuddled, kissed, fed, and soothed your baby for one whole year. Congratulations, Mumma and Daddy. You are doing a great job!
The first year is huge, and that's why it's a celebration! So we celebrate by including the family too, because – it's not just your baby's first birthday, but it's an honouring of you as parents, the great job you are doing, and you deserve to celebrate that!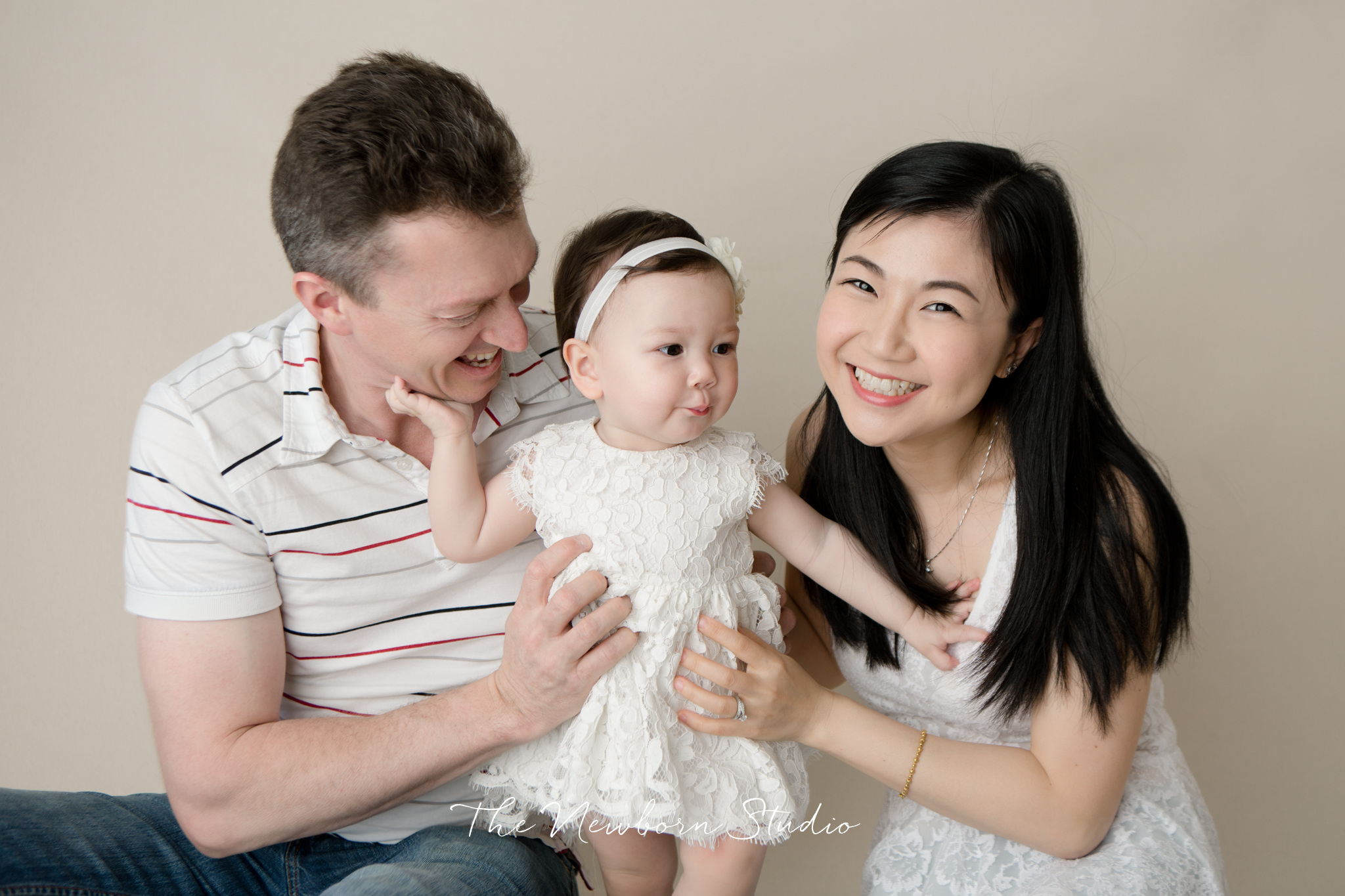 Cake Smash sessions are more than just Cake…
Firstly, it's time to photograph your baby and the milestones they're achieving, right now! Bring along a gorgeous outfit for your baby, or wear one of our beautiful studio rompers we provide here, and it's time for some fun in the studio with your babe! Little Danika brought along 3 of her bunnies from home for her baby cake smash, such a gorgeous way of documenting her fave things as a 12 month old.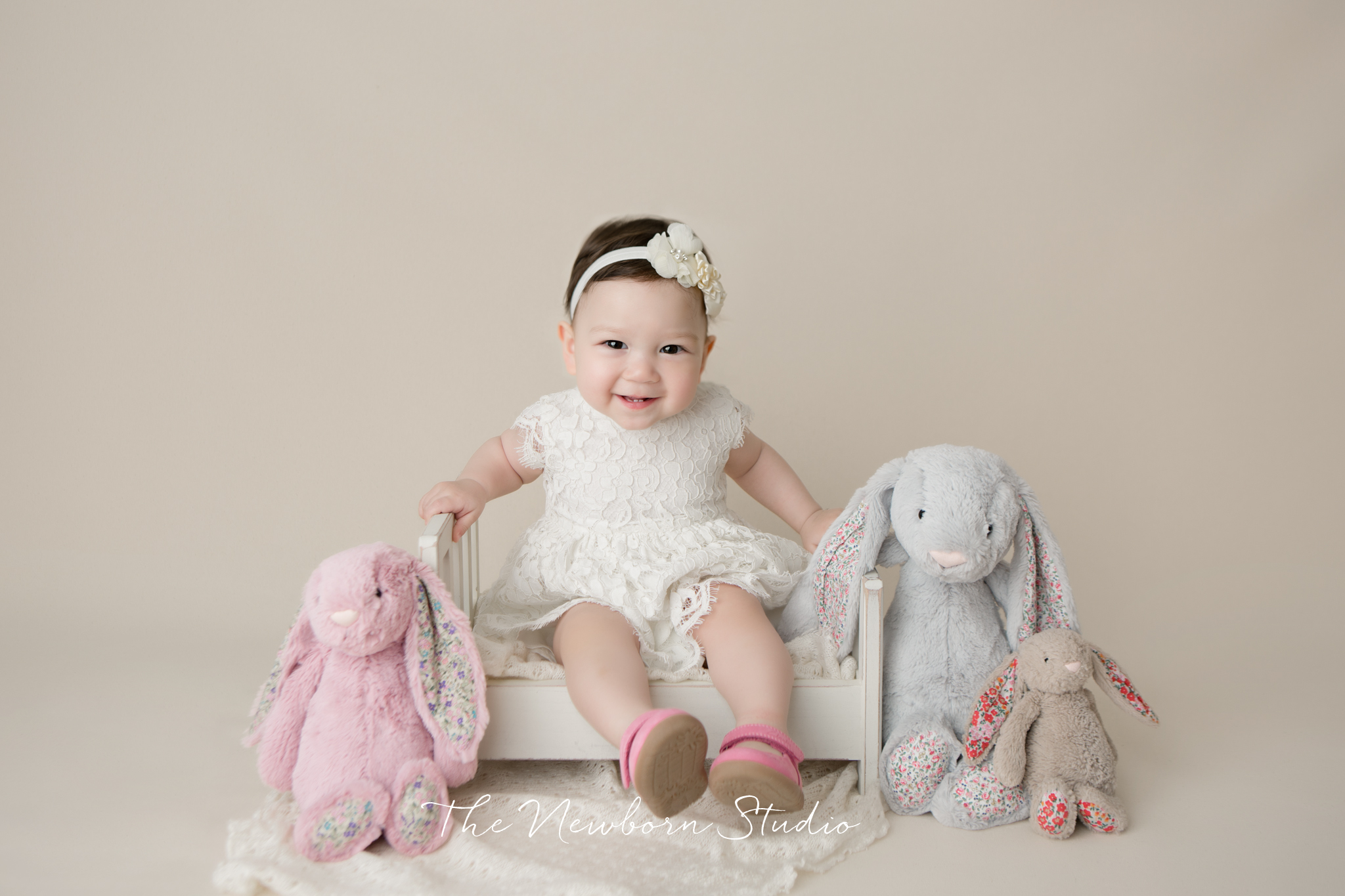 After baby's cake smash session we invite Mum, Dads and siblings to jump into the photo as well. We love having families in the studio, and this is the perfect chance to update your family photo too! Our studio sessions aren't stressful or forced – we simply encourage families to sit close to each other, have cuddles, tickle their baby and blow raspberries on baby's face, while I act like a goose with all my squeaky toys and crazy baby-noises to capture your baby's attention 🙂 And yes – we will grab that special "looking-at-the-camera-photo"…. because that's always a winner!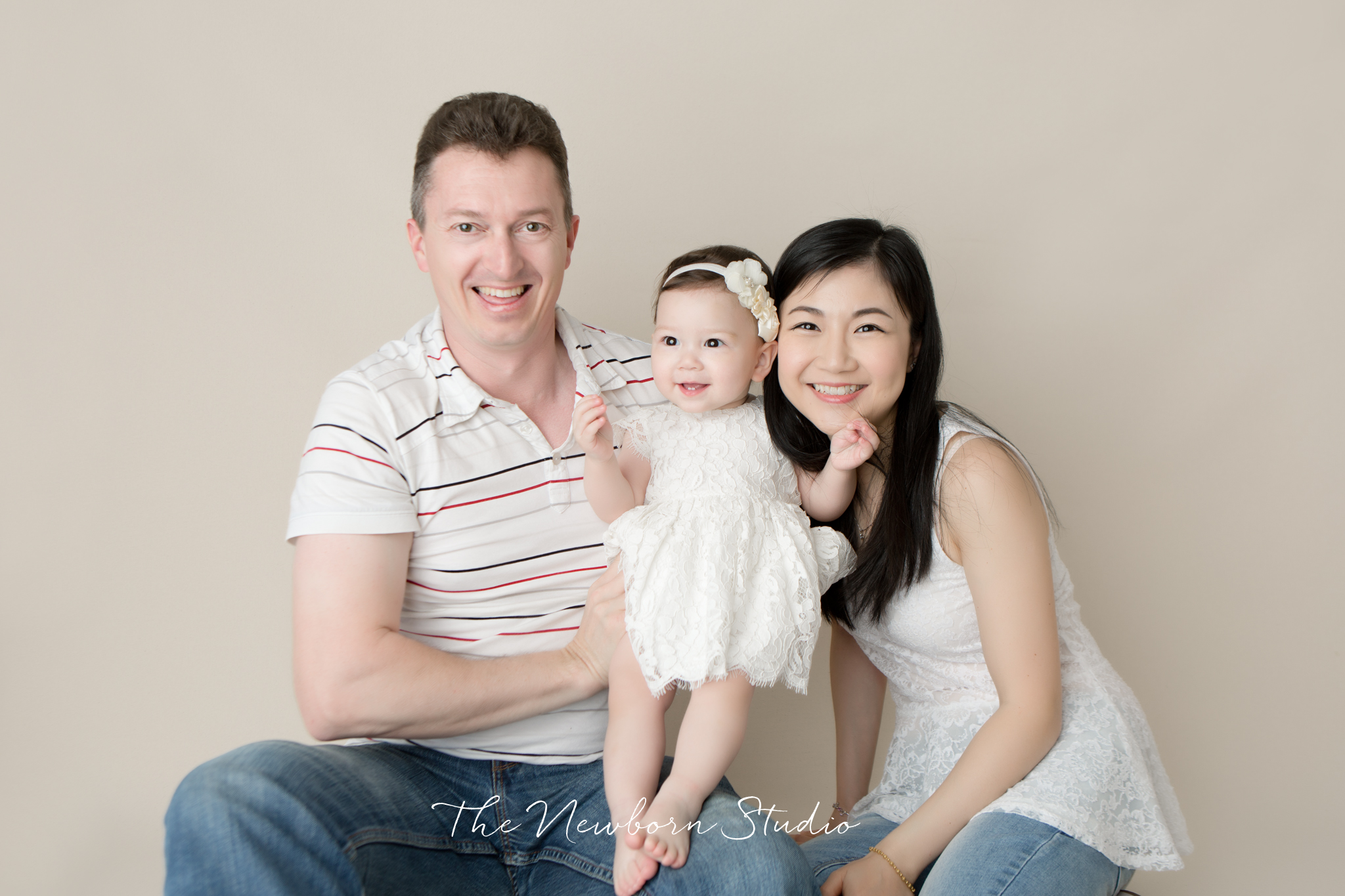 Our fave time of the session is watching baby with their cake! Your baby's cake smash can be taken in many different ways…. some babies see the cake and launch their little hands straight into it! Other babies don't know what that big, colourful-looking piece of food is, and whether they should eat it or not… ! Sometimes we need to encourage and reassure babies that the cake is OK to touch – and we have all our tricks to encourage baby, such as hiding little sandwiches and cheese sticks behind the cake, and giving them spoons to hold instead.
Yes! You can smash a Fruit or Pancakes, too
While we're talking "cake" smashes…. let me reassure you that YES, we have also done FRUIT SMASH sessions and PANCAKE sessions, too! Some babies have allergies, and some parents would prefer them munching on fruit, rather than icing – and that's ok, too! We can accommodate your special requests, and you are also more than welcome to make or bring your own cake too, if Bub has specific allergies.
Check out baby Amelia's Fruit Smash session, of her favourite fruits – watermelon and banana!
Baby's Cake Smash
Otherwise, our beautiful cakes are provided by The Cupcake Patisserie at Chermside, where owners Aimee and Amanda do such an amazing job baking and decorating our cakes! Before each session I work out the best colours and style for your baby's cake, and The Cupcake Patisserie make it happen! I can't eat cake (I'm gluten-free), but I've tasted plenty of icing! haha…. and all the parents tell me the cakes taste de-a-licious!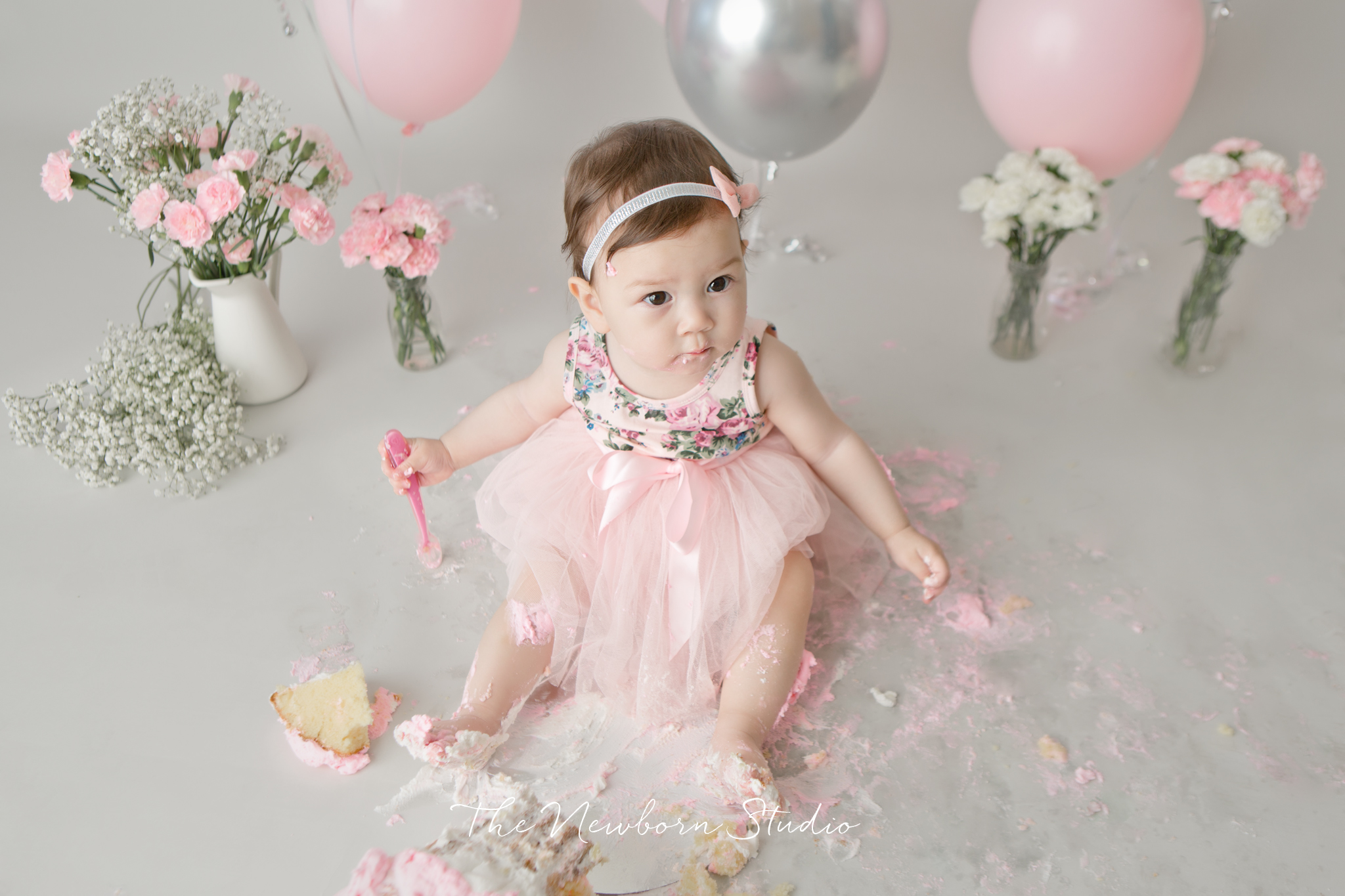 Style the session with a cute outfit
You'll notice our sessions are all styled to your fave themes, colours, or outfits – baby Danika's parents requested florals with pink/silver to match her beautiful dress – no worries! We can do that 🙂 Simply tell me what you would love from baby's cake smash session, and I'll design the session around that. Choose a nursery or superhero theme, or a fave outfit, or something new and modern like white, stars, woodland, organic…. anything you love, we can probably do!
Once we've had baby's Cake Smash session, you'll wonder if the icing will ever come out of baby's outfit! So here's a parent tip, bring a spare plastic bag to take baby's icing-covered outfit home for washing 🙂 And in the meantime, we'll pop a naked little Bub in our custom-designed cake smash bath for their Milk Bath session…. guaranteed to grab those cheeky smiles and gorgeous expressions!
The name "milk bath" seems very up-and-coming at the moment, but all it is, is warm water (for baby's comfort), with around 1/2 a cup of milk. That's it! The milk just clouds the water over, so when we're taking photos, the water is cloudy instead of see-through, and we don't accidentally photograph body parts that we don't need to see! Milk Baths are great for babes with milk intolerances, because we can substitute with almond milk or soy milk if required.
Remember the cute expressions? Need I say more….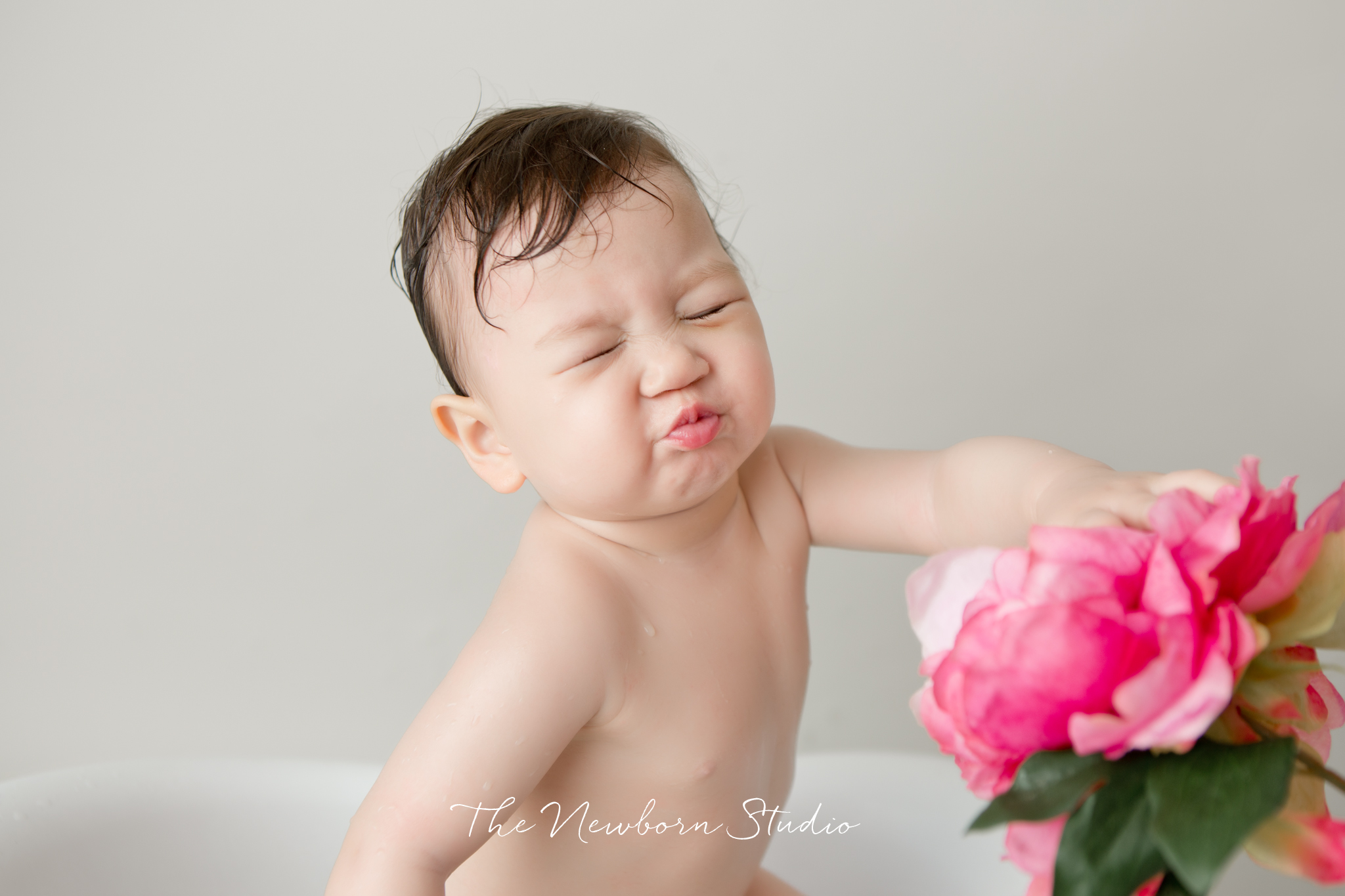 Splash in a milk bath
Our gorgeous, brand new Milk Bath tub is perfect for wrapping up our sessions, and big enough for twins, too!
Babies love splashing in a little bit of warm water, with Mum or Dad blowing bubbles over my shoulder, while I try to avoid the water splashing over the camera! haha… But seriously, the most fun part of the session, and a great way of washing all the cake and icing off baby's body.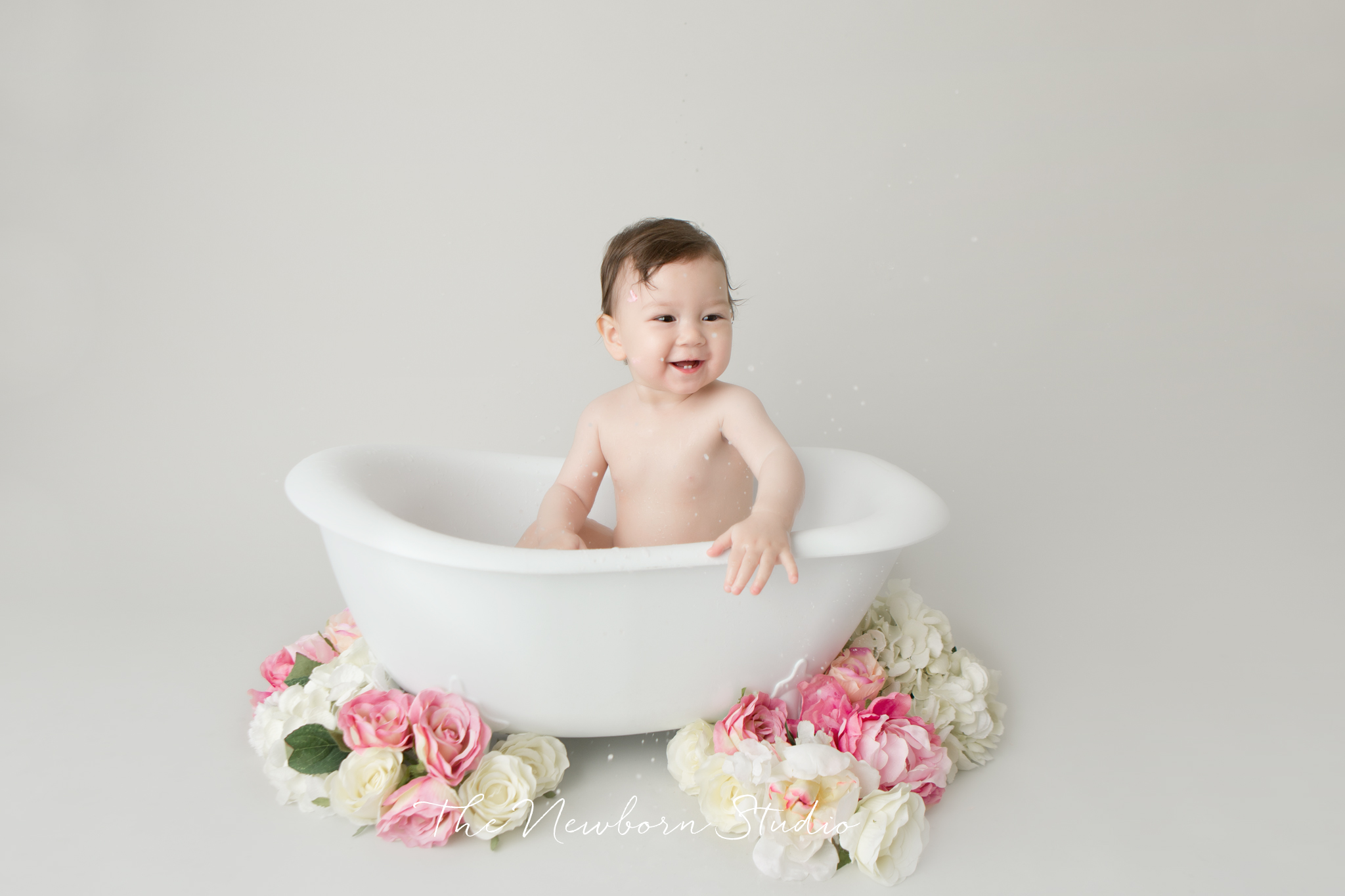 The best part of the cake smash session is having your photos ready for baby's birthday! If you'd love to use these gorgeous photos for your baby's birthday invitations, or a beautiful photograph on the table at baby's 1st birthday, it's important to tell us, so we can schedule your session around 11 months, and have the photos from baby's cake smash ready for you asap.
Our beautiful digital storyboard (below) is a gorgeous way of showing off baby's photos for their birthday! This is included in your Cake Smash session, along with another 15 Digital Images of your choice, to keep.
Cake Smash celebrations. I love them.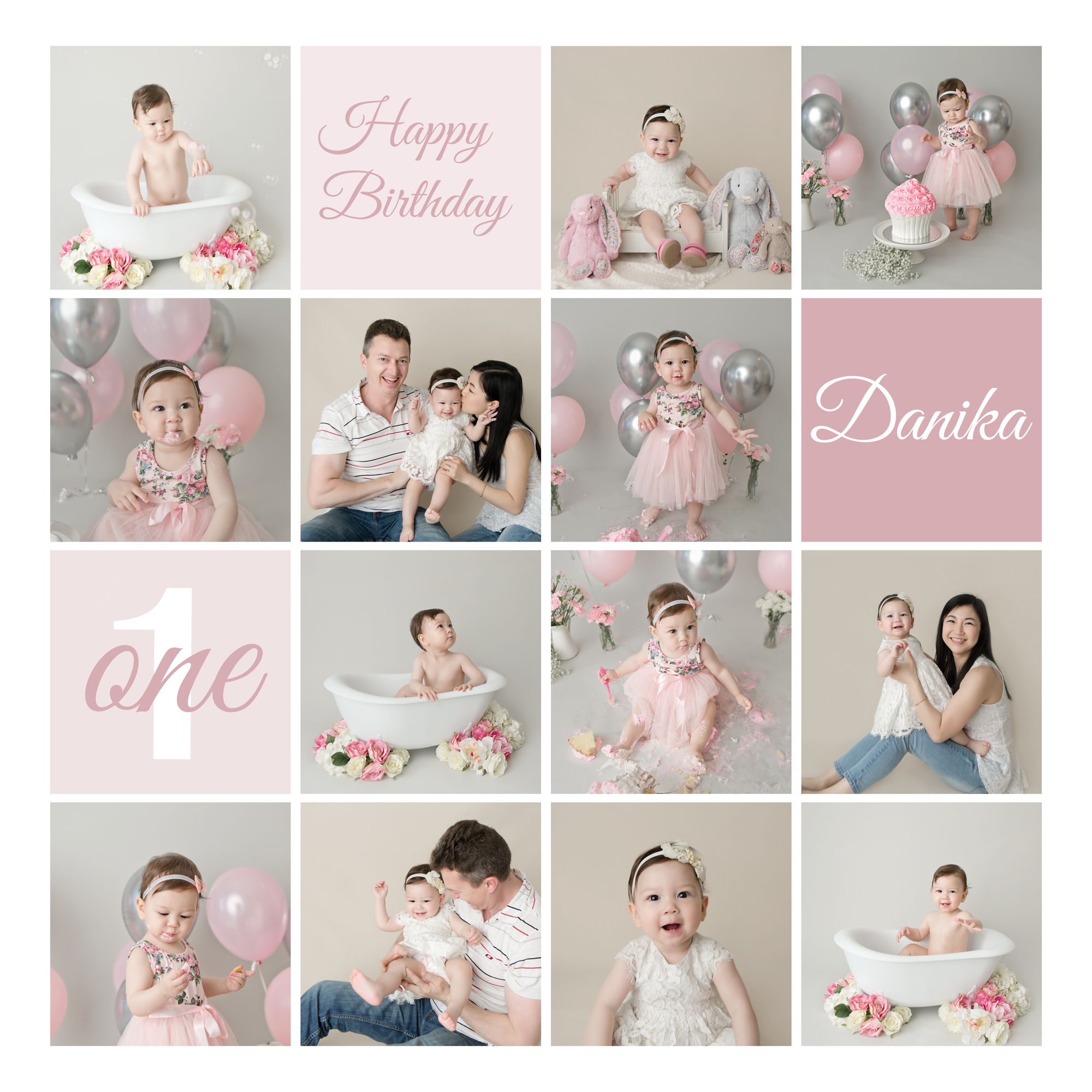 About Your Photographer: Claire is an AIPP Master Photographer, Newborn and Baby snuggler, little-kid wrangler and Mumma of 3. She's happy to sit on the floor with your little one, making cute faces and capturing your baby's smiles, so contact her today on 0419 657 120 to book your baby's cake smash session.
0