cake smash photography brisbane
Is your baby turning ONE year old soon?
Congratulations, parents, you've nailed this parenting gig for 1 whole year!
Parenting is tough, guys.
Silly, sleep-deprived, walking-underwater-tiredness kinda tough.
The nights are long but the days are short, and for some reason, those 12 months just fly past and suddenly, your fresh little newborn is a crawling, maybe walking, eating, crying, teething, gurgling, chatting, demanding little toddler, full of personality, smiles and face-smooshing hugs.
If there's ever been a reason to celebrate, it's now!
Cake Smash Photography : 22 Reasons Why a CAKE SMASH is the BEST Way to Celebrate Your Baby's 1st Birthday.
1. It's your celebration, too.
You and I both know it, your babe is 6-12 months old and really has no idea what a cake smash is, or even why everyone is suddenly surrounding them at their birthday party with cake, streamers, balloons, presents and baby-hugs… it's overwhelming for little ones! But parents, this is your celebration too. Parenting is demanding, and 12 months of any sort of dedication is a milestone, and should be celebrated.
2. Cake! Need I say more?
A party isn't a party without cake, and our yummy Cake Smash cakes are a party in itself! Our beautiful cakes are made by our local bakers and are custom-designed to your fave colours, to perfectly match the styling and theme. Nothing to organise here, parents! Simply tell us your fave colours, and we'll help you decide on a jumbo cupcake or double-barrel cake, and organise the ordering and delivery for you. Nothing for you to do! Just BYO wet-wipes!
3. They'll have a smashing good time.
Get your baby ready – they are about to have some serious fun! Cake Smash sessions are probably the first time your baby has been given a cake and actually allowed to play with it, so practice is key! Give your babe some highchair-sensory-playtime at home prior to their session, so they're ready to stick their fingers in icing, grab a handful of cake and smoosh it into their toes. You'll be glad you booked us as your Cake Smash photographer, when you see the mess your baby generates on the day 🙂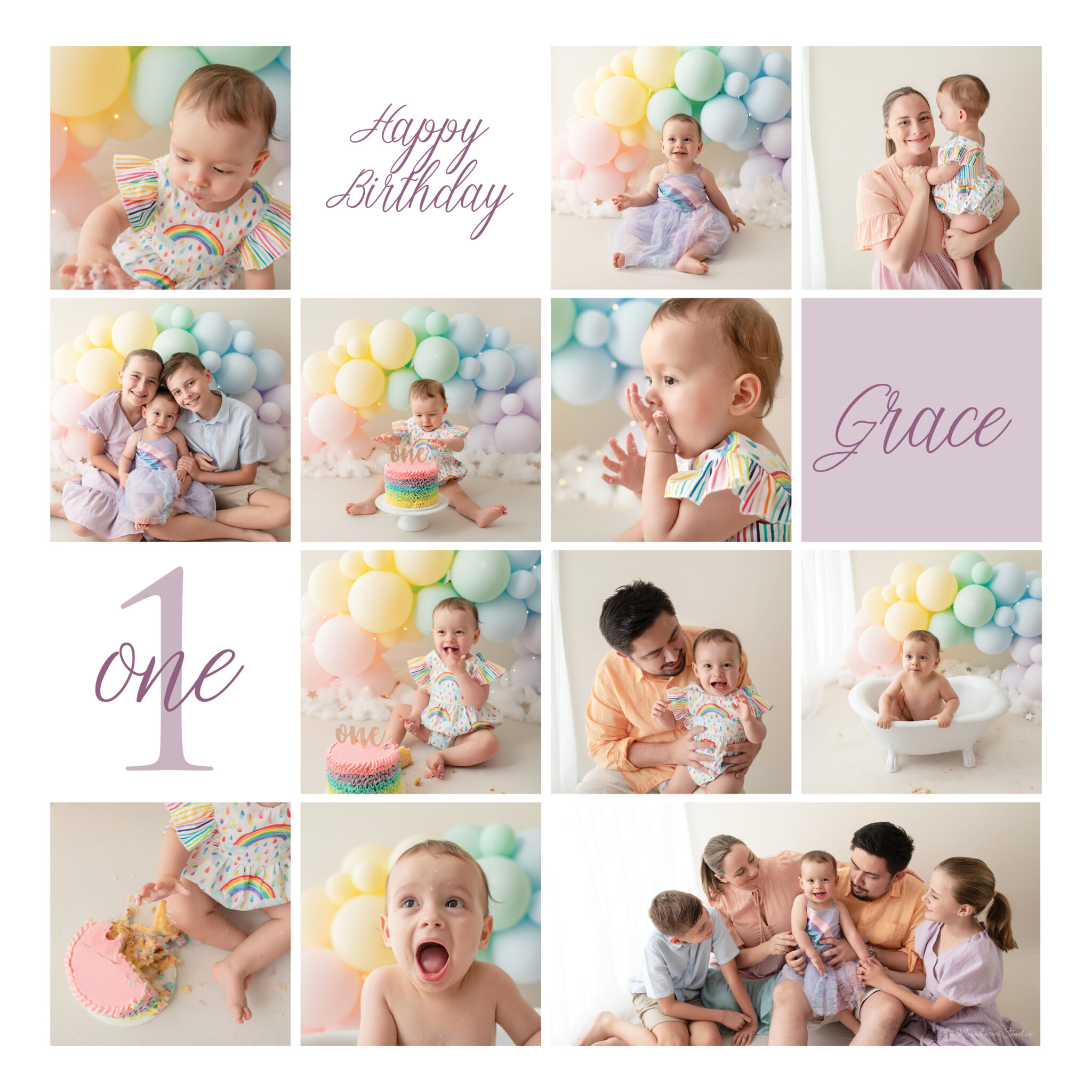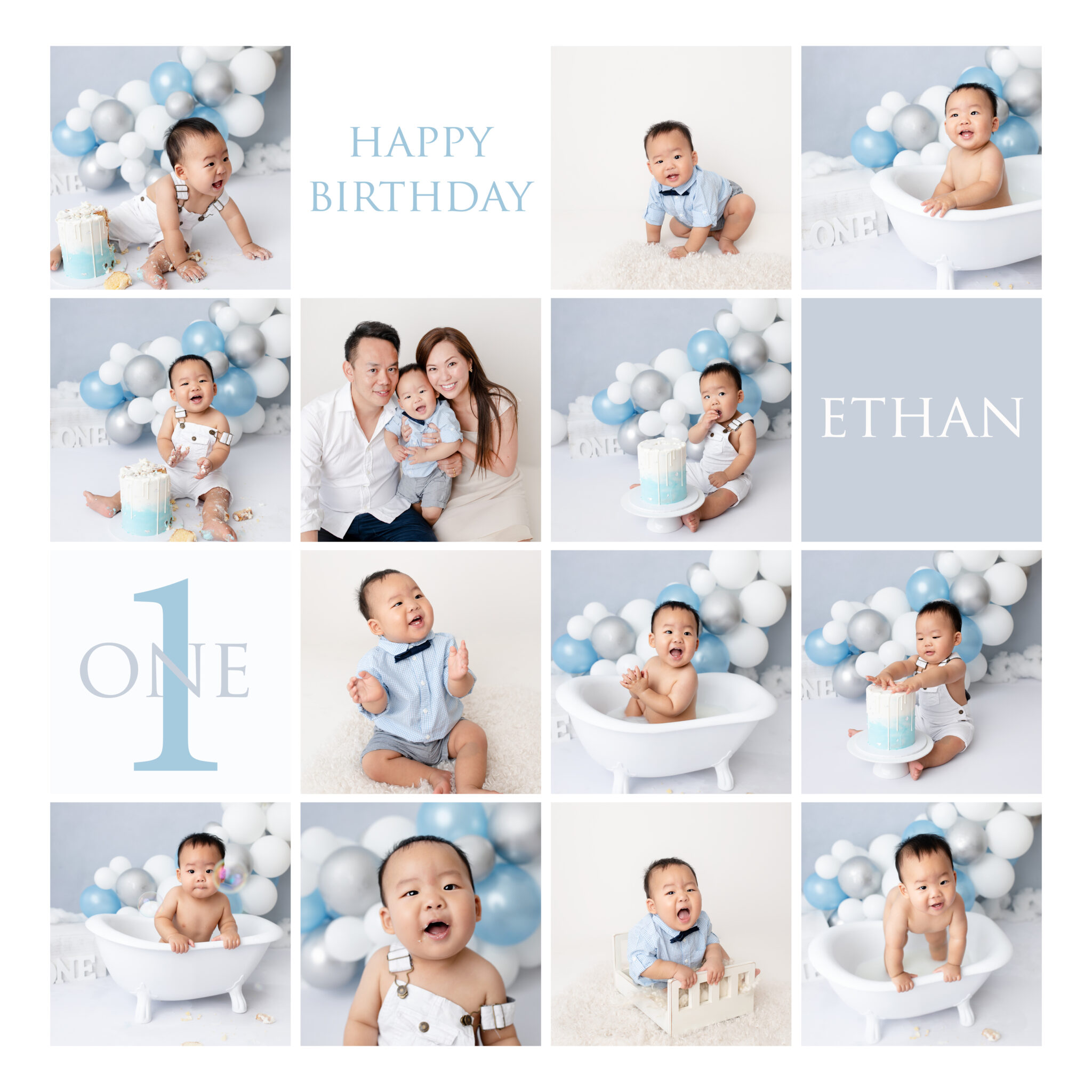 4. Who doesn't like a bubble bath?
Bubble baths, ahhhhh, so relaxing… even for babies! Our Cake Smash sessions are a combined Milk Bath/bubble bath, so baby has a chance to splash around, grab bubbles, and clean off at the same time. For babies who weren't quite so into the cake part of the session, the bubble/milk bath is sure to have toes and fingers splashing. Our little mini bath is pint size, and perfect for babies!
5. Mamma cuddles.
Mamma cuddles rule, and for an 11 month old baby, they're LIFE. I love that special time when your baby crawls over to you and flings their chubby arms around your neck and squishes you tight. Yes. You made that!
Your baby's 12 month celebration shows you the love and adoration your Bub has for their Mamma, and I make sure to capture that before the cake comes out, during the start at the baby/family session. It's the best way to update photos, grab your family and squish your baby tight.
6. It's all included.
The best reason for a Cake Smash session… it's all included! You've seen our Cake Smash sessions (check out our blog, if not), all I need you to do is tell me your fave colour/theme/outfit, and I'll coordinate everything else to suit.
Do you want something neutral, white, creamy, all about baby? Let's keep it simple and style it white and gorgeous!
Does your baby have a special outfit, overalls, tu-tu or romper? I'd love to see their outfit, so I can find the best colours to suit, and style the decorations and cake around it.
It's ALL done. I provide the location, the decorations, props, styling, balloons, bath tub, bubbles, even towels!
AND of course, the beautiful styled cake from Addicted to Cakes.
And it's all-inclusive of Digital Images and a beautiful Framed print, too.
7. Siblings won't miss out.
If you're bringing older children to your baby's Cake Smash session, pack some extra clothes, and let them get in on the action! Otherwise you'll definitely be looking at pouty kids wondering why their 1yo sibling is playing with cake and icing, and they're sitting on the couch watching 🙂 Sometimes little ones need some help and to watching someone else dig into the cake, and siblings are the answer! Bring them along, they will love it.
8. Let's see those teethy grins.
The BEST way to celebrate your baby's first birthday, is to photograph them, as they are right now. What do you absolutely love about your baby? Which milestones is baby up to? We'll be mucking around in the studio with your little babe, giving them tickles and photographing those little teeth popping through, capturing little curls of hair, chubby fingers, crawling toes and sparkling eyes. It's all part of your baby's first year of life, and whether baby is sitting, crawling, or walking, your photo session will document these moments of your baby's milestones, right now. What's a little bit of teethy drool between friends…!
10. Personality plus.
There's a few personalities I see in the studio, and I'm always excited to see how your baby will react at their session.
There's the enthusiastic head-bobbing babies who jump around in their parents arms, fling themselves at the cake with delight, stick their toes in like a mud-bath, and touch everything in sight …. There's the quiet, reserved bubs who give me shy eyes, gently touching the cake and inspecting the tiniest bit on the end of their finger until they realise this is more fun than they thought……. Then there's the small amount of bubs (only two that I can think of), one of which was MY child! My daughter looked at the cake, looked at me, looked at the cake, then touched cake on her knee – and waaahhhh! Game over. She was hysterical! *photographers child*
10. The mess stays here.
Unless you'd like to hang around and help me clean up, no? Ha. It's all good, and it's all done for you! We're pro's at setting up your session, photographing your babe, and cleaning the mess up, too. If there's an edible cake portion left after the cake smash, you're welcome to take it home in the box, otherwise, it's all turfed in the bin. Don't stress about the mess. We provide towels and wipes, you just bring your baby and everything else is done for you.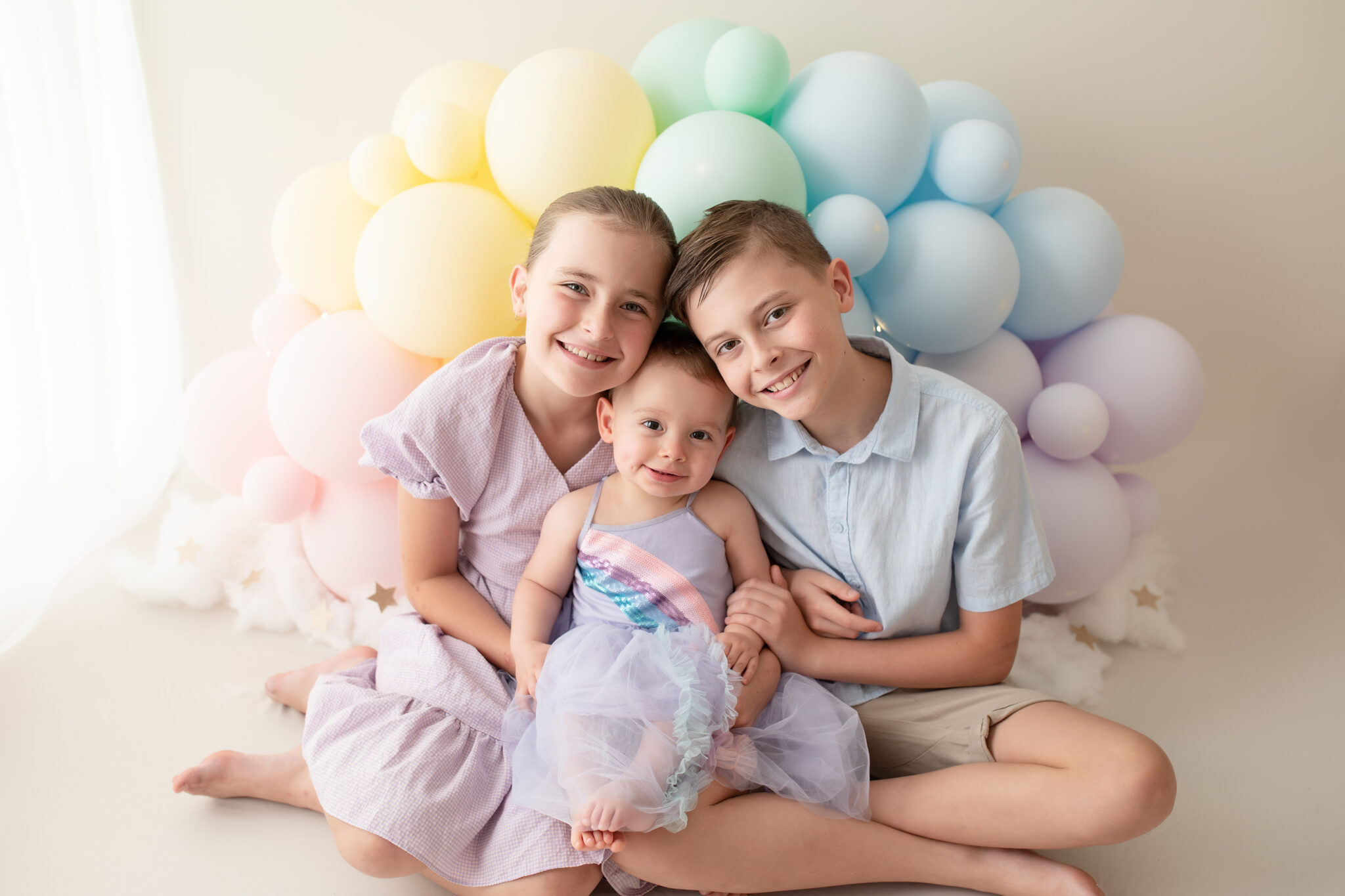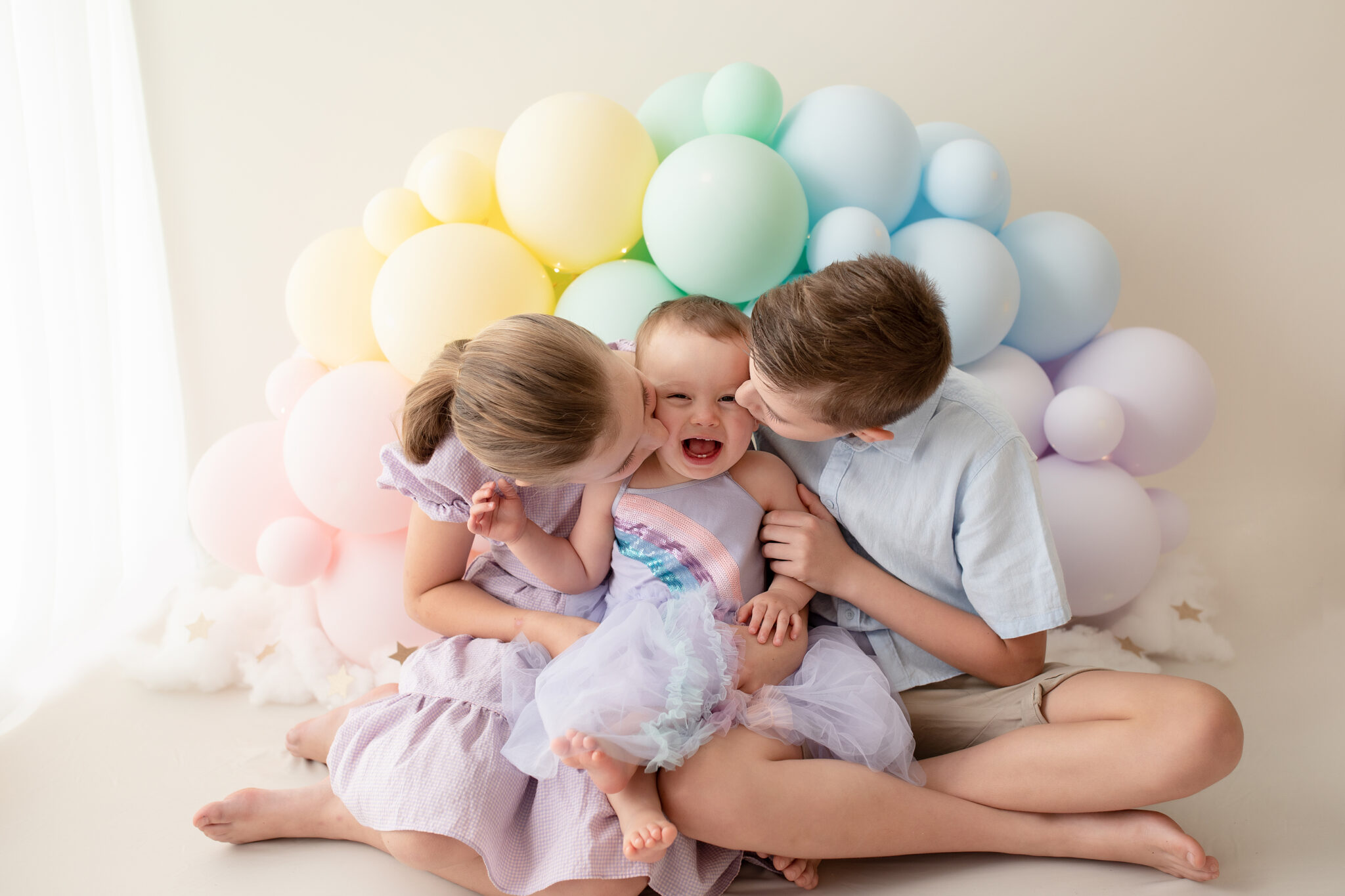 1st birthday party invitations
11. Party invitations, sorted!
Have you checked out Etsy or Pinterest for birthday invite inspo? OMG. There are so many gorgeous invites out there, and it's so easy to design your own birthday invitations with your gorgeous baby's photo! If you're planning a big shindig and you need those invites out early, let's photograph your babe around 10-11 months. It only takes a few days to turnaround your photos and have them ready for you to print. It's easy, and it's so darn cute. PLUS every Cake Smash session receives a beautiful 12 inch Framed print – perfect for displaying on the Cake table!
12. Bring in the kids.
We've said it before, the big kids always have fun at the session! It's also their celebration, too. They've had a whole year with their baby sibling, and sibling photos are important to me to photograph, too. That's why it's so good to have your Cake Smash session photographed! It's more than that… and you'll love updated sibling photos, squishy hugs between brothers and sisters. It only takes a few minutes – and really, we've only got a few minutes with siblings, to grab their attention, tickle them and capture their gorgeous laughs – so please take the time, bring your kids to the session too.
13. Time to oooh and aaahhh.
Ever seen your child do something seriously cute in front of other people, and you sit there going ohhhhhhhh that's my baby! You'll be doing that again very soon, sitting in the studio with me while we ooh and aahhh over your sweet Bub. Their expressions, their little cute fingers grabbing cake, their inquisitive toes squishing icing onto the floor.. be prepared for lots of "ohmygosh-he/she's-so-cute" from me, and bring a tissue or two as well. It's a massive milestone. Your babe is growing up.
14. Kid don't like cake?
We'll still celebrate, however you like! Cake or no cake, pancakes, fruit, strawberries, watermelon, cupcakes, fairy bread…. you name it, we can do it. Allergies or not, let's find a way to create something fun and memorable for your baby's Cake Smash celebration.
15. Fruit smashes are fun, too!
We photographed a watermelon fruit smash a few years ago… let's just say, it was what I needed to change from carpet flooring, to hard timber! ha! Watermelon fruit cakes are fun, exciting, squishy, cold, watery, and the perfect sensory treat for babies. Push the cake aside, bring in the fruit, and we know it's all good for them to munch on. Plus, we make it look sensational, too!
16. Ohh, the memories.
Every year we print an Album of our family photos for the year… (we can print on for you, too!). And your baby's Cake Smash photos are the perfect addition to your Family Album. Fun and exciting, and a memorable way of your baby turning one (or two!). One day we'll look back and remember the time your baby stuck their foot into a cake and cried… and we'll all smile, I promise 🙂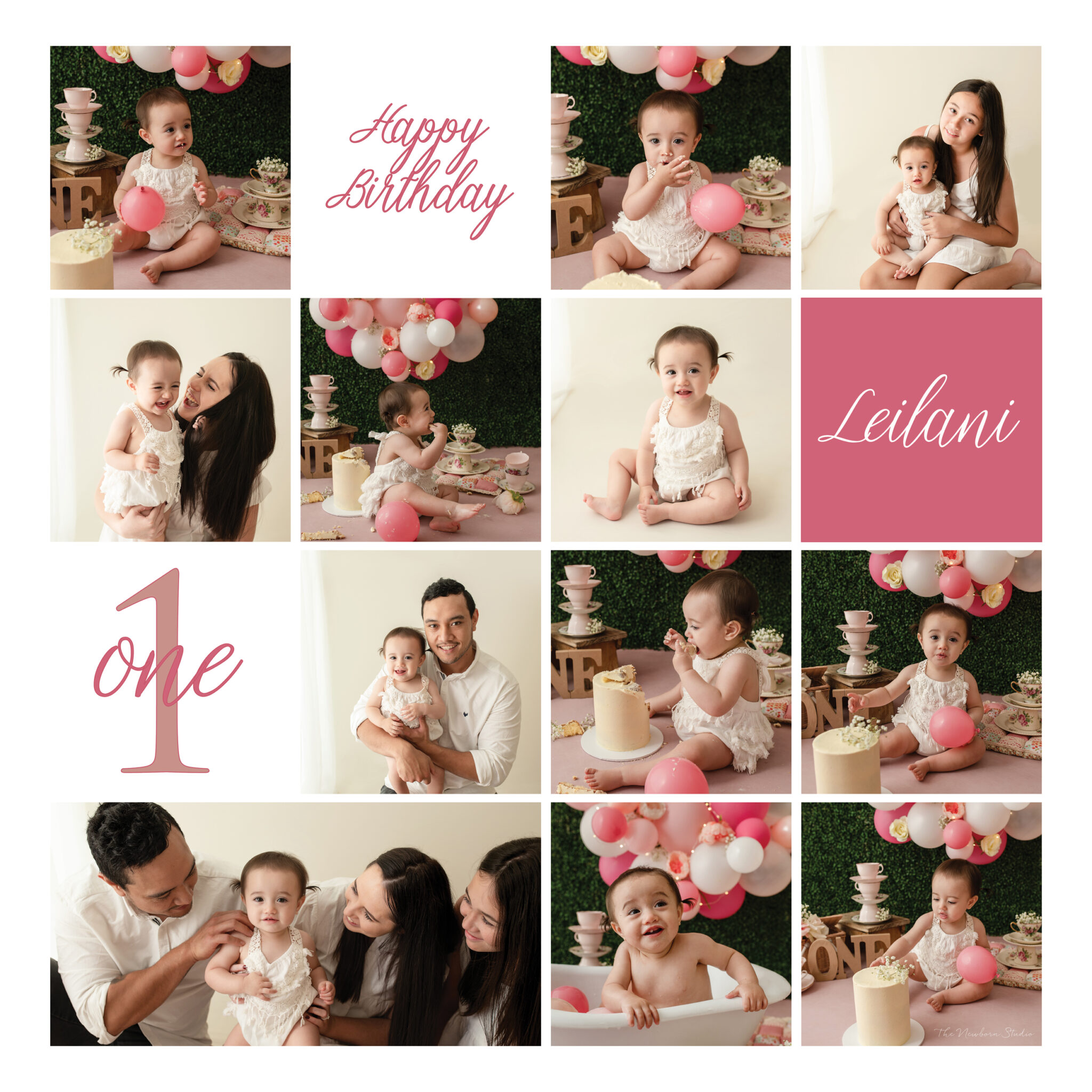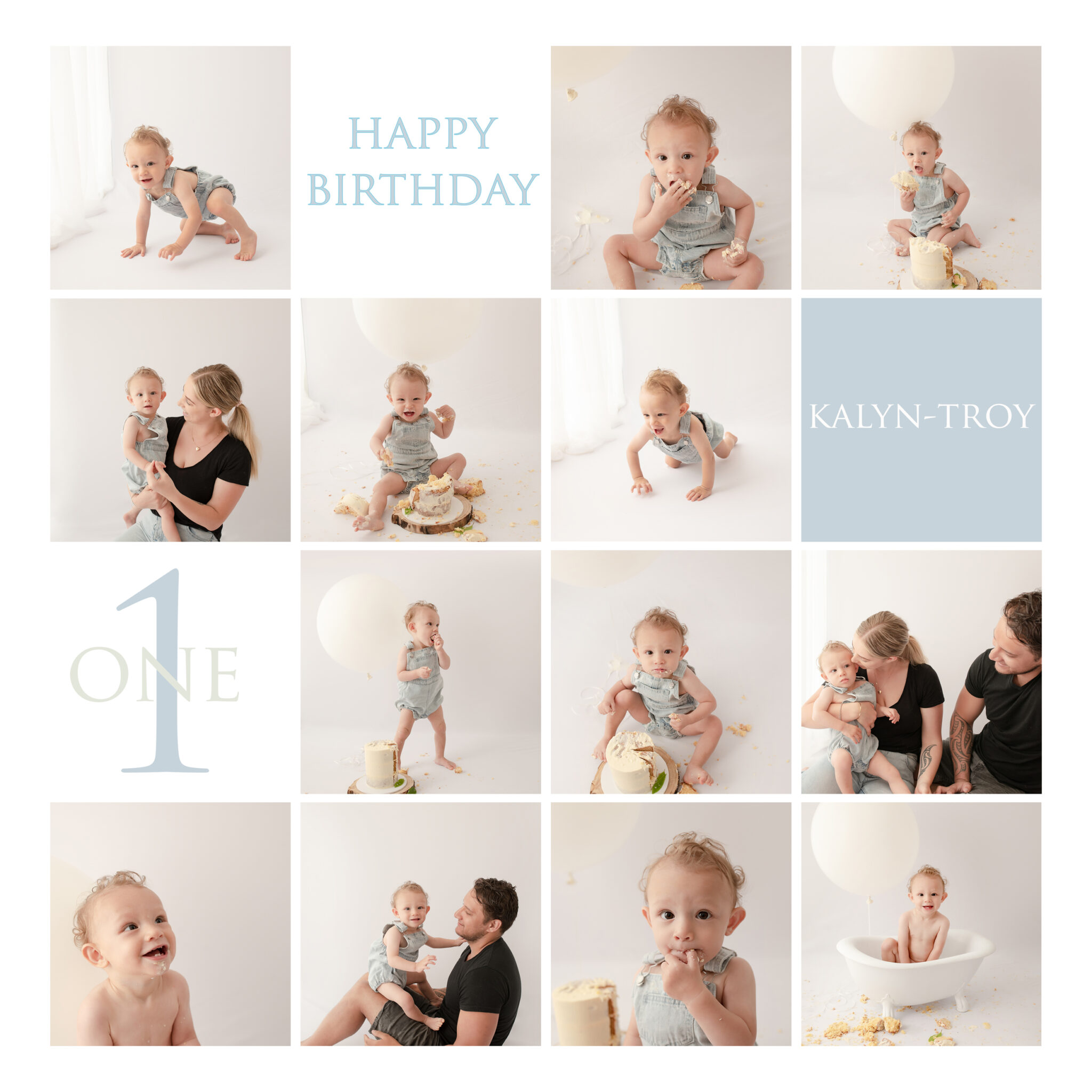 yes! families are included.
17. Something to hang, something to hold.
Digital Images are great for sharing, but we want you to have the REAL DEAL, too! So that's why we print one beautiful 12 inch Square, Fine Art print, for your baby's birthday! Choose a fun Cake Smash photo, OR a storyboard of 5 or 6 photos, OR a Family portrait! Hang it proudly on your wall, show it off to friends, and admire it every day. That's what we love most.
18. All the fun, without the stress.
I've photographed so many Cake Smash sessions, I basically have buttercream icing in my veins! 🙂 Setups are simple and easy for me, I source decorations, props and colours according to your fave style, and it's all set up and ready for when you come. You concentrate on bringing a happy little babe to their session, and I'll do the rest for you. No stress, no crazy setting up, it's all done for you, and I LOVE it!
19. Time for Family, too
After 12 months of baby-raising and nappy-changing, it's refreshing to just take a few minutes out of your schedule to do something different. Make the time to experience a family portrait session in our studio, where all you need to do is sit on the floor and cuddle your kids. Tickle them, cuddle them, whisper in baby's ears so they squirm and laugh. It's so nice to take time to do this, out of the norm at home. And it's even nicer, when we show you those special moments, captured on camera.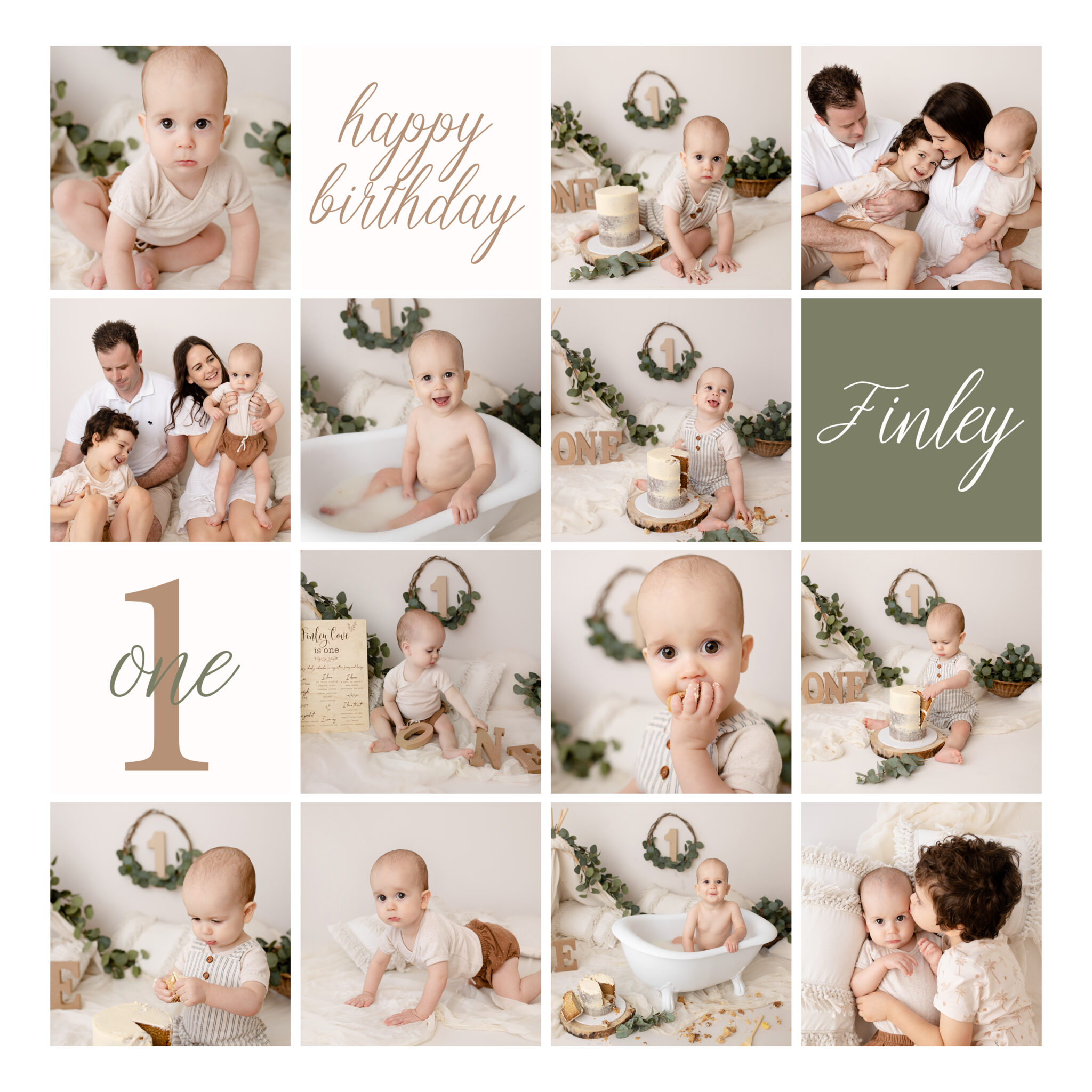 cake smash photography brisbane
20. Plenty to share around!
I swear, each Cake Smash session, the smell of yummy buttercream and cake fills the studio air, and the parents always give me that look, like, can we have some too? HA! Yes you can! We will happily cut a slab for you to munch on the day and encourage your children with, or, if your little one hasn't sat on their cake, smooshed it through their toes, or smeared the whole thing onto the ground, it's your choice whether to bundle up the "good" parts into the box and take the rest home. But it's probably better to cut some for you to munch on first, before it's destroyed. It's good, too! Yum!
21. Not just for one year olds!
Cake Smash Photography is most common with one year old babies, to celebrate their first year. But, it's still available, all year round, when your baby is growing!
We've photographed a few Cake Smash sessions for 2 year-olds, and also done a GENDER REVEAL Cake Smash session as well, such a fun way to incorporate your child or children, when your new baby is on the way.
22. C A K E – "Can't Always K(c)apture Everything" – As a parent, we're always rushing around with our phones, capturing things, trying to get our kids to smile and look beautifully styled when they're just crying and staring at the chocolate we're bribing them with…. ! Well, it's TOTALLY different for our clients. Trust me. Babies and children act so differently around us, usually a stranger, than with their parents. We have so many tactics and tricks to capture your baby unawares, grab those beautiful candid moments that we can't usually capture with a phone or entry-level camera. We have invested thousands and thousands of dollars in the best equipment, cameras, lenses and studio lighting, and that is how we can capture your baby so perfectly. It's all aligned and designed to work with us, so all we do is have fun with your baby on their celebration day, knowing, we can capture those moments beautifully. That's our job, and our love.
I can't wait to photograph your baby's Cake Smash Photography session in our Brisbane studio, very soon.
2