EXPECTING A BABY?
We think of Newborn Photography, and images of gorgeous, curled-up, sleeping Newborns come to mind…. but very rarely, we come across a baby who just doesn't seem right…
Every parent should read this.
You're reading this because you're expecting a baby and searching for a Newborn Photographer….So while you're googling that, ask yourself (and them!), can my Newborn Photographer spot a baby in distress? What would my Newborn Photographer do if my baby suddenly needed medical help during the session? Are they trained and ready to react?
Every new and expecting parent should read this before they book their Newborn Photographer.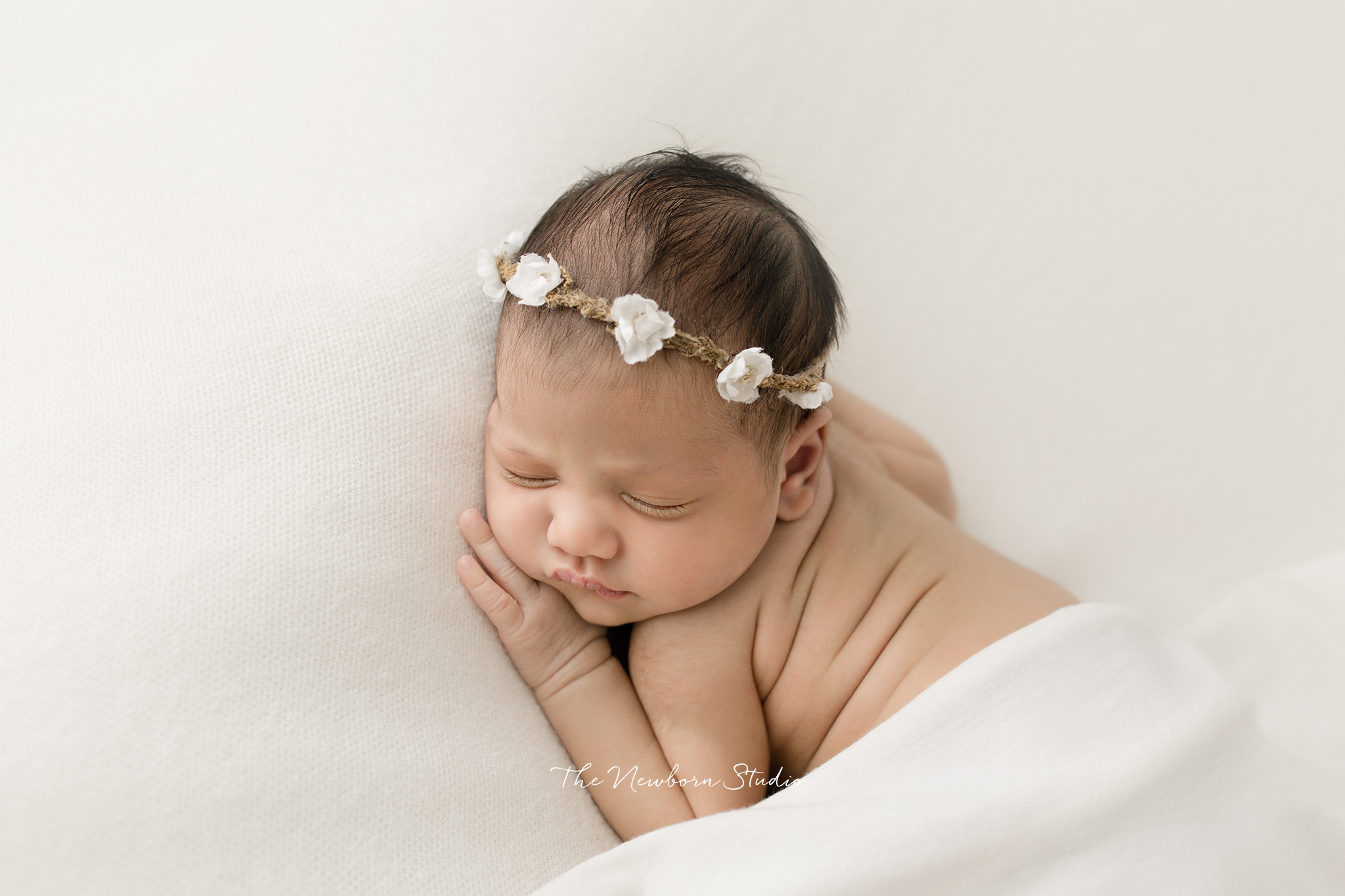 Academy of Newborn Photography training
I, along with hundreds of other photographers, are just that! Photographers, who deal with Newborns. But unlike families or weddings, we are dealing with brand new lives, and it's so, so important to do everything we can to equip ourselves for safe practicing of handling newborns. So when a certified Newborn course came up to learn more about the medical side of newborns and new Mums, I jumped at the chance to enrol.
Over the past 8 years as a photographer, I've completed a handful of courses on baby posing, business, etc, but nothing at all like this course from the Academy of Newborn Photography. To start with, the course was hard. Like, REALLY hard. I'm talking medical terms that I've never heard of. Stuff that Nurses, Doctors and Midwives study, but in a condensed version, suitable for non-medically-qualified Newborn Photographers.
Handling Newborn Babies
I always knew we had an important job, having little week-old Newborn babies in our care, but the information in this training really made me realise how critical the first few weeks of a babies life is.
After you read pages and pages of medical information on the birth period, neonatal period, new Mum and baby complications, CPR, birth defects, complications, cyanosis, Workplace health and safety, and more big words, you still have to pass a test! Multiple tests… Like high school!
To say it was hard is an understatement, and I'm not ashamed to say it took me a few goes. But was it worth it? Oh yes. Words and study don't come back quickly enough until a situation presents in the studio when you NEED that information, stat.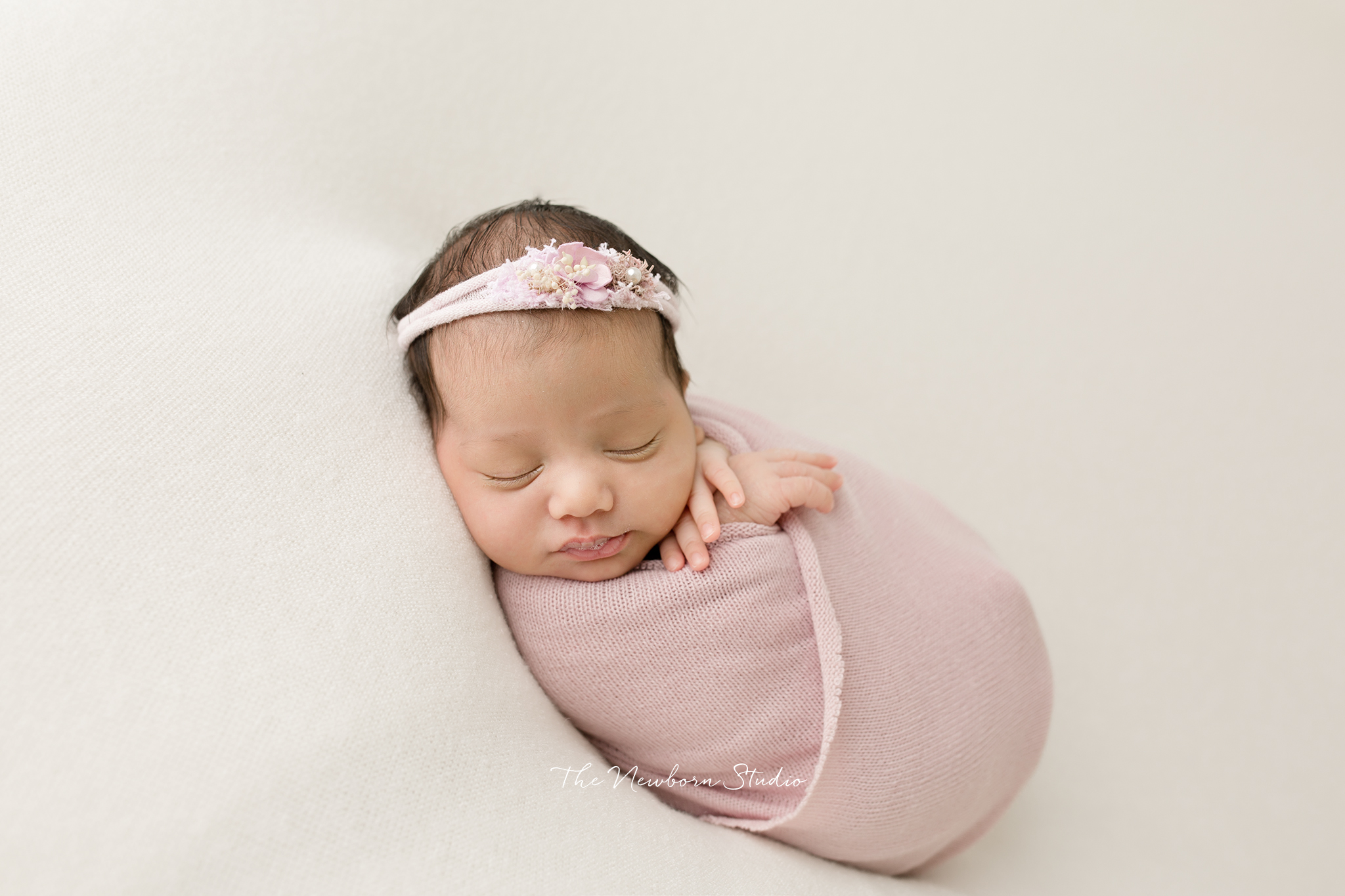 Your baby's Health and Safety is my number 1 priority.
It's so important to choose a Newborn Photographer who puts your baby #1.
We are so lucky as Newborn Photographers, to have baby cuddles with these completely gorgeous little bundles. For a long time now, I've felt "in tune" with newborns, ready to react and adjust poses or settling techniques when they squirm, and able to hear and differentiate different noises for hunger, tiredness, and tummy pains. We have such a low rate of unsettled babies in the studio, and it just feels natural to me, to be able to handle a newborn safely, gentle ease out burps, and settle babies off to sleep. The "baby-whisperer" comes up from parents quite often in most sessions, along with offers of 2am cuddles!
If you're expecting a baby and looking for a Newborn Photographer, it's important to find someone who understands your baby's needs.
How do you choose a Photographer?
Please don't choose someone purely based on price or location.
The majority of our clients drive 45 minutes – 1.5 hours to our home studio for their Newborn sessions, and I'm so grateful that my clients choose me.
Don't choose someone who just wants to practice their poses, regardless of your baby. Or someone who's rude or ignorant when you're enquiring. Or someone who's work looks unsafe, or dangerous. Your baby's safety comes before pretty pictures.
Find someone who is:
1) Immunised – and please check with them! (yes! I am. Whooping Cough is particular important).
2) Received newborn training (yes!)
3) A non-smoker. Yuck. You definitely do not want your new baby inhaling smoke.
4) Someone who shows patience and kindness to you and your baby. You should get a feel for that when you're contacting your prospective photographer.
5) A qualified and insured Photographer who photographs what you want to capture, and can provide you with beautiful quality, heirloom products.
I'm also a Master Photographer with the AIPP (Australian Institute of Professional Photography).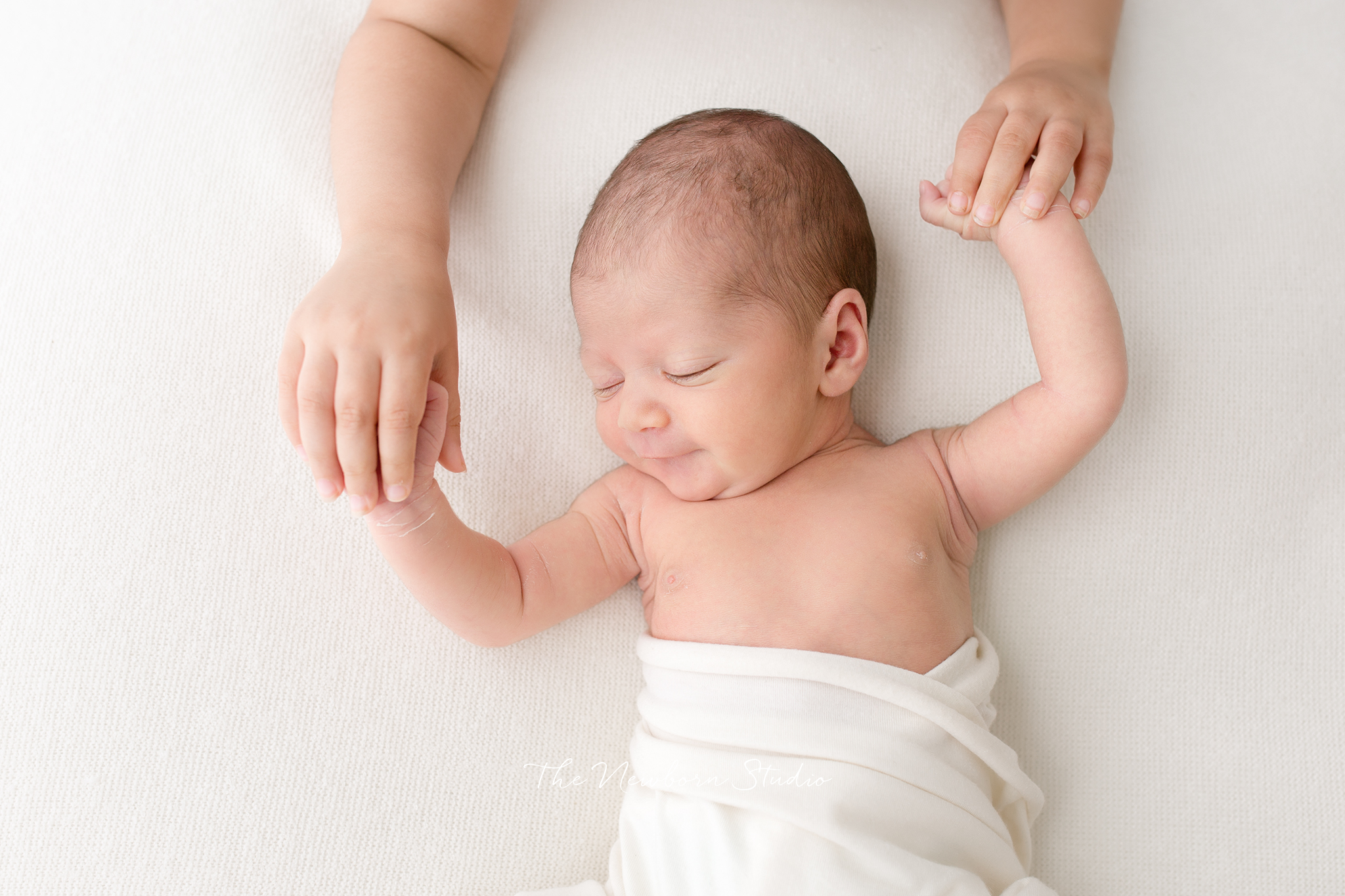 Expecting a baby? Read this.
Case study.. a real one : My 10 day old Newborn client.
This is why it's important to find a Newborn Photographer who has your baby's safety as #1.
Baby E's parents have given me permission to share his story, with the hope that every new and expecting parent should read this. Not to scare or alarm you, but to show you how vitally important it is that your Newborn Photographer watches your baby carefully, reacts to your baby, and speaks up and responds when necessary.
Please note. I am NOT a midwife, nurse, or doctor. But the medical training specific to Newborn Photographers that I received assisted me in a real-life scenario, and I am very grateful to have received this training. This case was the first I had encountered in 8 years photographing Newborns.
*Baby photographs in this post are not related *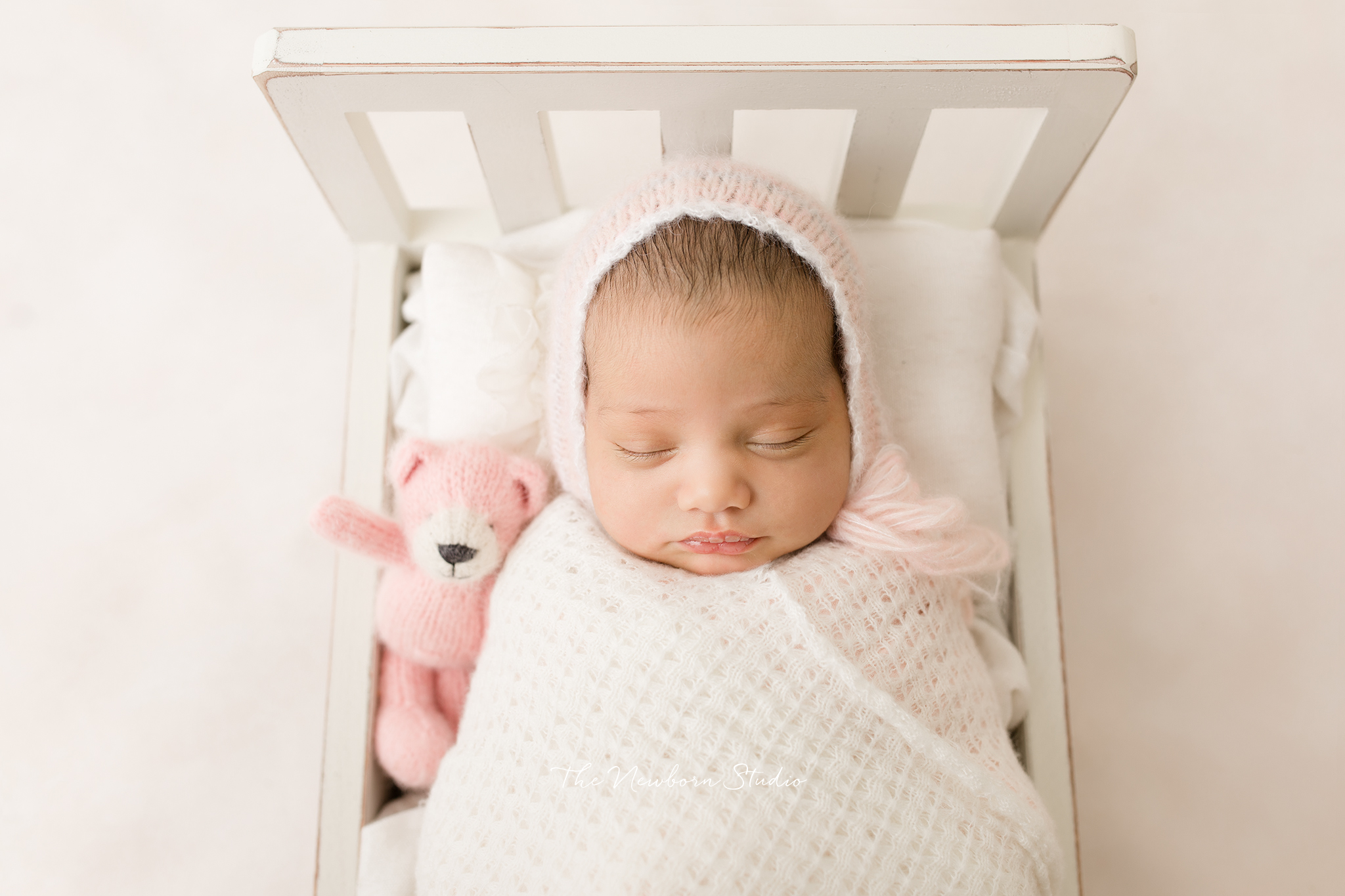 A Client's perspective, in Mum's words.
Baby E presented in the studio for his Newborn session at 10 days old, with his parents and big brother.
Almost immediately I noticed he had a different sounding cry, which put me on alert. His parents were unaware of anything out of the ordinary, and while going through our Newborn health checklist that I do before every session, they remarked that his Paediatrician was happy with him, and he was healthy and happy.
"My baby is in good hands"
Before baby E's session there was "no issues or concerns. Nothing out of ordinary – he's a very happy baby. I felt very reassured that my baby is in good hands. Although I knew that already from the way you handled my first newborn three years ago 🙂
After talking about baby E's birth and arrival, and any issues he had (none), we proceeded with the session, and I kept an eye on him. At one point I stopped and held him for a few minutes (and took a video of him) because I was sure that something was amiss. He had moments of a tracheal tug, slight chest retractions, and raspy noise, then would go back to normal. I knew something was going on, and I knew that ANY form of respiratory distress (even mild) needed help. It's a scary thing to stop a session and tell the parents that there may be an issue with their baby (who was pink and happy, wriggling around, looking so perfect!) – but while a baby is in my care, in my home studio, I will never hesitate to stop the session.
Although I didn't think it negated an Ambulance, I wasn't prepared to wait. I'm not a doctor. I made the call to both a NICU friend to confirm my suspicions, and (with the parent's permission) to 13HEALTH (an non-urgent Australian phone number to speak with a Registered Nurse) for their thoughts.
"I wasn't concerned at first"
"I wasn't concerned at first as his Paediatrician said the funny sounds he was making was normal. But when you pointed out you've never seen that before I started to get worried… You handled it very well. I'd be a lot more scared if I heard panic in your voice!… It was very reassuring to talk to a nurse and most of all to learn about 13HEALTH that I used few days later when my son spiked 38.5C fever!"
Baby E's condition was deemed non-urgent, and he was taken to his GP who dismissed his symptoms. But luckily his parents sought advice again from his Paediatrician, who confirmed a medical diagnosis related to his breathing, of which he received medical care. Luckily his diagnosis is only mild, and his breathing issues will regulate themselves as he grows, but had the symptoms been ignored for longer, or not raised at all, I have no idea how that could affect him. I wasn't prepared to ignore it and send him home.
"You were a true professional"
Baby E's Mum says "You were a true professional and knowing my baby's safety was the priority was so important to me. I would 100% recommend you to anyone. You are so caring and gentle with babies. Your photos are a piece of art and complete our home. You really go above and beyond for your clients. You are so responsive and hardworking. And your training in newborn's health and safety is a huge bonus".
While Baby E's condition was not life threatening, its again another reason to choose an experienced Newborn Photographer. Someone who has handled many, many babies, and someone who will not hesitate to put your baby FIRST.
"I was very impressed you went through so much training in medical issues for newborns. I don't know any other newborn photographers with so much medical knowledge".
"You are so gentle and confident"
Baby E's Mum writes "There are so many reasons why I chose you to be our newborn photographer! Not only you have an amazing talent as a photographer but your level of patience with newborns is extraordinary! I never forget our first newborn photoshoot when my baby did everything he could to make it impossible but you still managed to get breathtaking photos. You are so gentle and yet so confident with newborn – I could never do what you do. It's truly amazing."
My promise to you.
Your baby and your family WILL be my number 1 priority.
When you choose The Newborn Studio as your Photographer, you're choosing me, Claire, a Mum of 3 little ones (8yo, 5yo and 2yo), and a caring, friendly, and baby-loving Newborn Photographer.
I hope this puts your mind at ease, knowing that I am qualified, insured, and trained,
with current Infant and Baby CPR hands-on certification with CPR Kids in January 2019.
I look forward to meeting you, answering any questions you have, and snuggling your baby…
(Oh, and providing you with gorgeous photos, too). !
Claire x
Book your Newborn session here.
0