Congratulations on your purchase from Bubs n Grubs Baby Store, Morningside!
Together with Bubs n Grubs, The Newborn Studio has an EXCLUSIVE OFFER, just for you!
save $250 on a photography session
 How to redeem?
1. Register your details 
2. Book a Newborn or Family Portrait session
3. Purchase a package and take $250 off!
TAKE $250 OFF DIGITAL PACKAGE PRICING:
5 DIGITALS $750
10 DIGITALS $995
20 DIGITALS $1550
ALL DIGITAL IMAGES $2250
Inclusions:
– Newborn or Family photography session
– Design Appointment to view your fave photos
-$250 off your package
Terms and Conditions apply.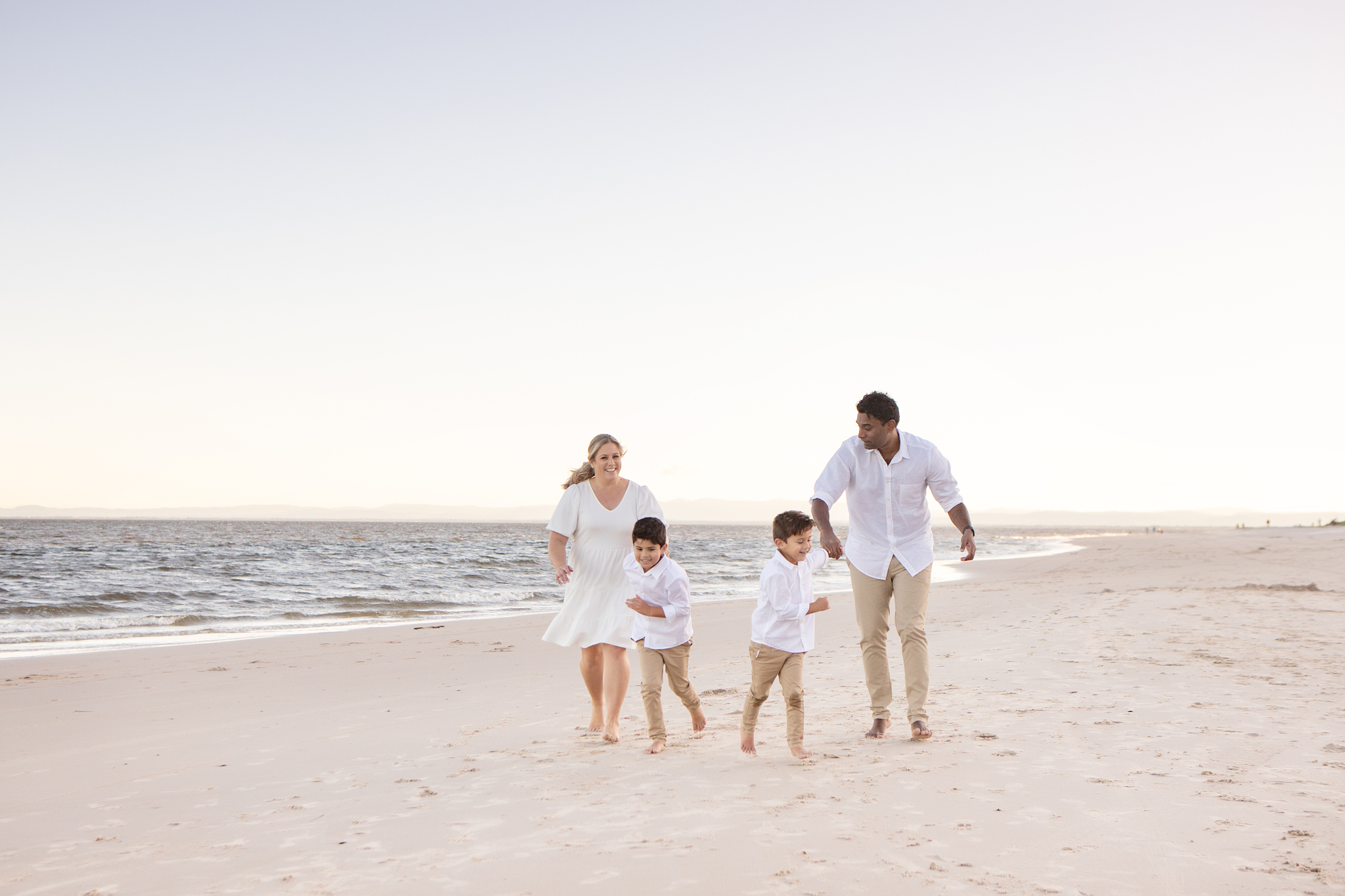 I love photographing families in the outdoors, at the beach or in the bush, enjoying nature, and running around having fun!
Our outdoor Family Portrait sessions are held around the Northside of Brisbane, Bribie Island, or chat with me about your fave place to hang out as a family!
Let's book your Family Portrait session soon. 
Family Portrait sessions are only available from March – October.
Weekend dates book quickly so contact me asap to grab your session date!
Newborn photography sessions involve capturing beautiful tiny details, family hugs, and little moments together with your new baby. So much changes in those first few weeks, so book during your pregnancy, and visit when baby is 2-3 weeks old.
Before your session you'll be prepped with info on what to wear and how to prepare, and welcomed into my home studio with your family.
Grab an outfit for Mum and Dad from our Studio wardrobe, and relax on the couch while I photograph siblings and baby first, then family together.
Breastfeed or bottle feed baby, and I'll settle, shush and pose your bub, easily transitioning between setups, and entertaining your toddler at the same time. 
All I need to know are your fave colour choices, and they'll be ready to go when you arrive!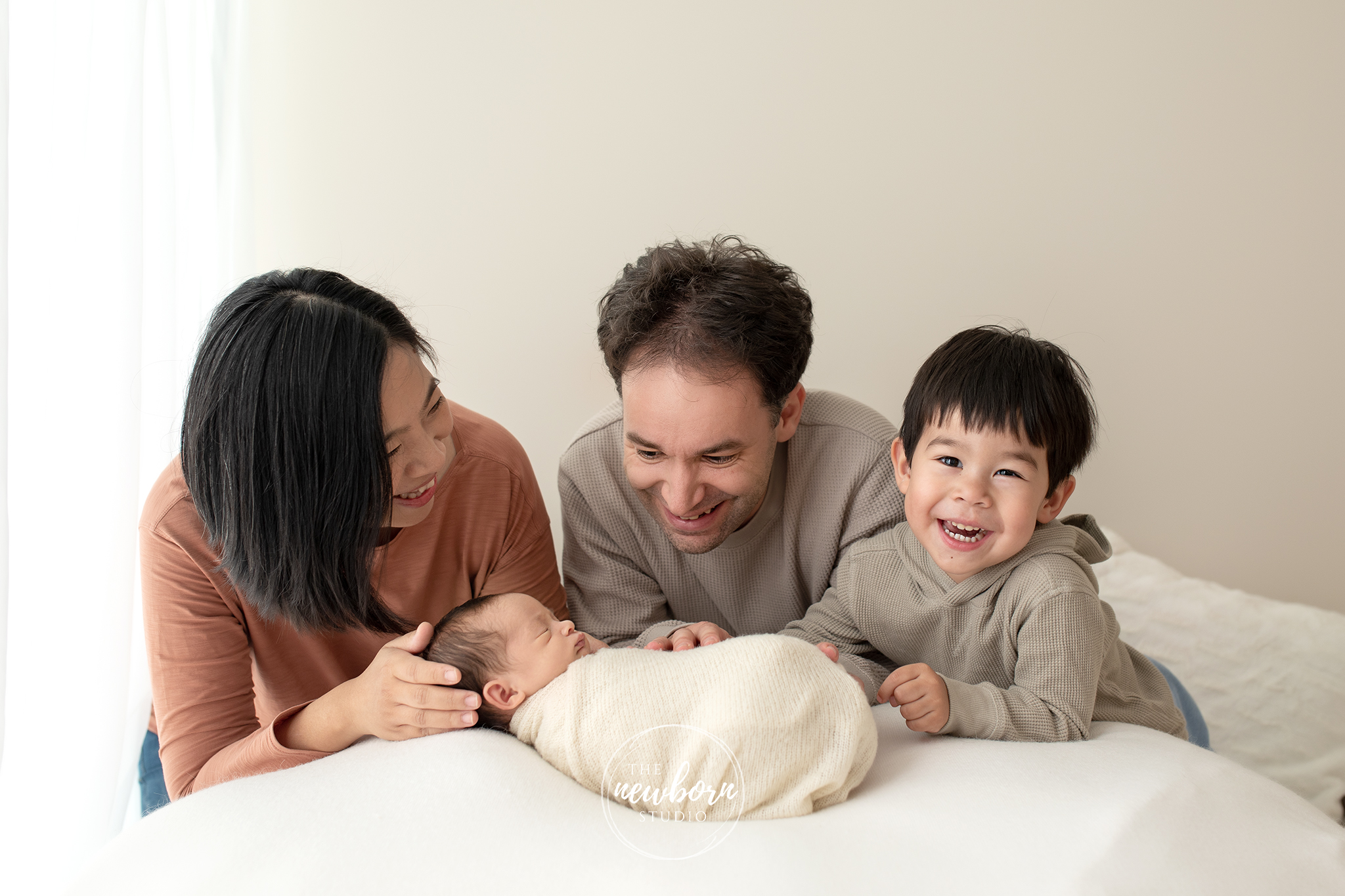 Want to view pricing?

Your $250 credit can be put towards a Newborn or Family Portrait package, starting at $750 (for 5 digital images).
You can add extra Digital Images to your order, or perhaps a beautiful printed Album or Wall Art. The choice is yours!
I personally take you through your photography session and Design Appointment. There's no hard sell, I only want you to purchase what you LOVE.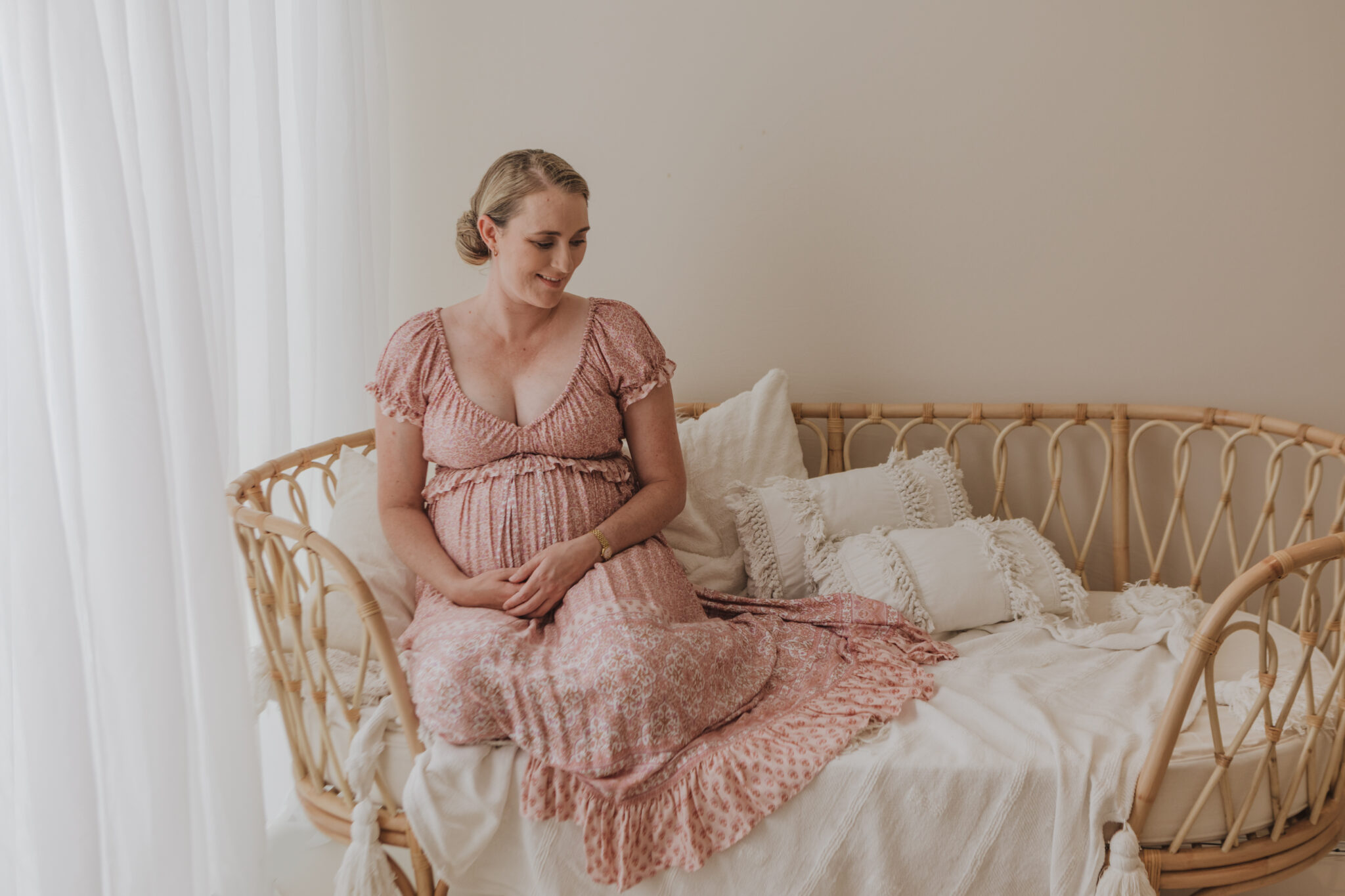 The majority of our pregnant Mumma's want their Maternity session documented too, and that's just fine with me!
I love photographing Maternity sessions, either in the Studio, outdoors or in a beautiful Milk Bath. 
It's all here, if you'd love to add it on.
Add a Maternity session (including 10 Digital Images) for only $690.
Just choose from Studio – Outdoor – Milk Bath.
Just make sure you contact me ASAP, so we can scheduled your session around 30-34 weeks (or earlier if you're having multiples).
I'm always happy to show off my gorgeous clients to the world!
So here, take your time looking through some of our recent Maternity, Newborn and Baby photos.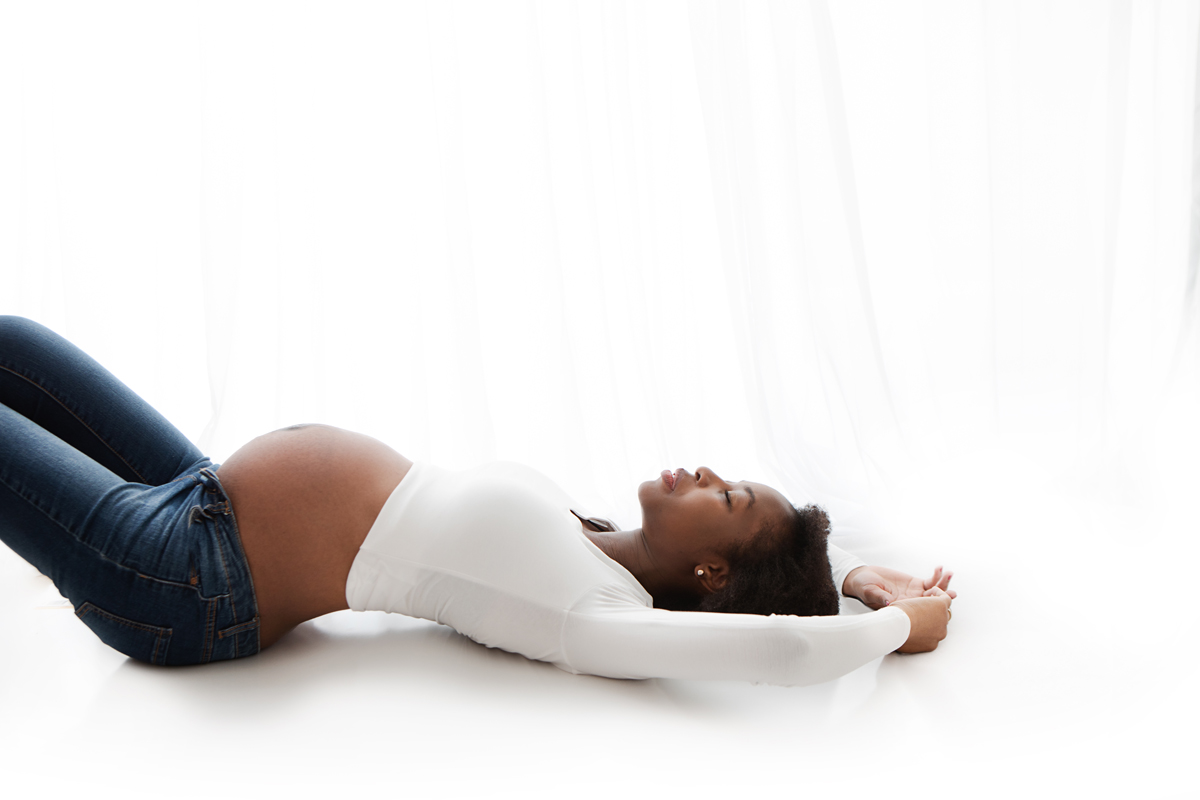 Uhmm… nothing at all!
You're saving $250 off your Newborn or Family Portrait package – which is 30% off our base package!
Your exclusive offer of $250 off is exactly as mentioned. Just purchase a Newborn or Family Portrait package starting at $750, and we'll take $250 off the total cost.
Regular booking terms and Conditions apply.
Not available for any other photography session.
Not including Mini sessions.
If you have any questions, please get in touch with Claire to chat more. Full terms and conditions apply when booking which will be outlined in your contract.
Here are Questions you may have!
Q: How much is the Newborn or Family Portrait session?
A: The photography session is complimentary.
If you would like to purchase any photos, choose a package starting at $750 (5 Digital Images), and apply your $250 voucher to this. The minimum spend is $500 for the base package.
Q: What if we want to buy more?
A: No worries! You'll receive a price brochure at your session. In the meantime, have a look at our pricing page for ideas.
Q: When is payment due?
A: Full payment is due after your view and choose your fave photos. 
Q: Do you have Payment options?
A: Yep! We accept Afterpay over the phone and in Studio.
Q: My baby is born already / Is it too late to register after birth?
A: Newborn sessions are best suited up to around 4 months, so please book before then.
If baby is over 6 months old, book a Family Portrait instead.
Q: We're having multiples!
A: Yay! We love baby cuddles. Multiples are more than welcome.
Q: We want a Maternity session too.
A: Perfect! Add on a Maternity session for only $690.
Q: What if we don't like the photos?
A: If you don't like any photos, you're free to walk away after your Design Appointment.
If you choose to walk away, your images will be deleted as we know you don't want them. 
Our time is precious, so please don't book a photography session if you don't plan on keeping your photos.
Q: Is this a scam or a hard sell?
A: Gosh no!!
I'm a professional Master Photographer running a business I love.
I only want you to choose your favourite photos.
The Design Appointment is for you and I to sit together and view your photos, and I will suggest options for printing in Albums, on the wall or as gifts. You are welcome to choose what you love.
My price list will be sent to you on booking, and provided as a hard copy at your photography session. 
Q: Can I bring Siblings or Grandparents?
A: Siblings and Grandparents are welcome!
We will photograph siblings and family first, and then concentrate on baby's images after. We ask that Grandparents arrive separately, as our studio space is small, so they may wish to leave once they are photographed.
Q: What if I have more than one voucher?
A: Only one voucher can be redeemed per session. If you have multiple vouchers from multiple purchases, you can use the others for another session, they cannot be combined.
Q: Can I give the voucher away?
A: If you don't want the voucher, sure. Same conditions apply to the new holder of the voucher.
Q: How long does the voucher last for?
Your session must take place before 31st December 2024.
More questions? Get in touch. x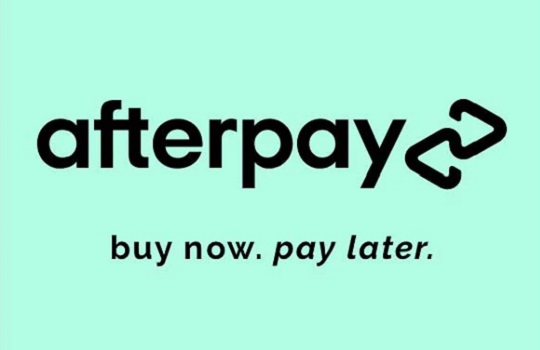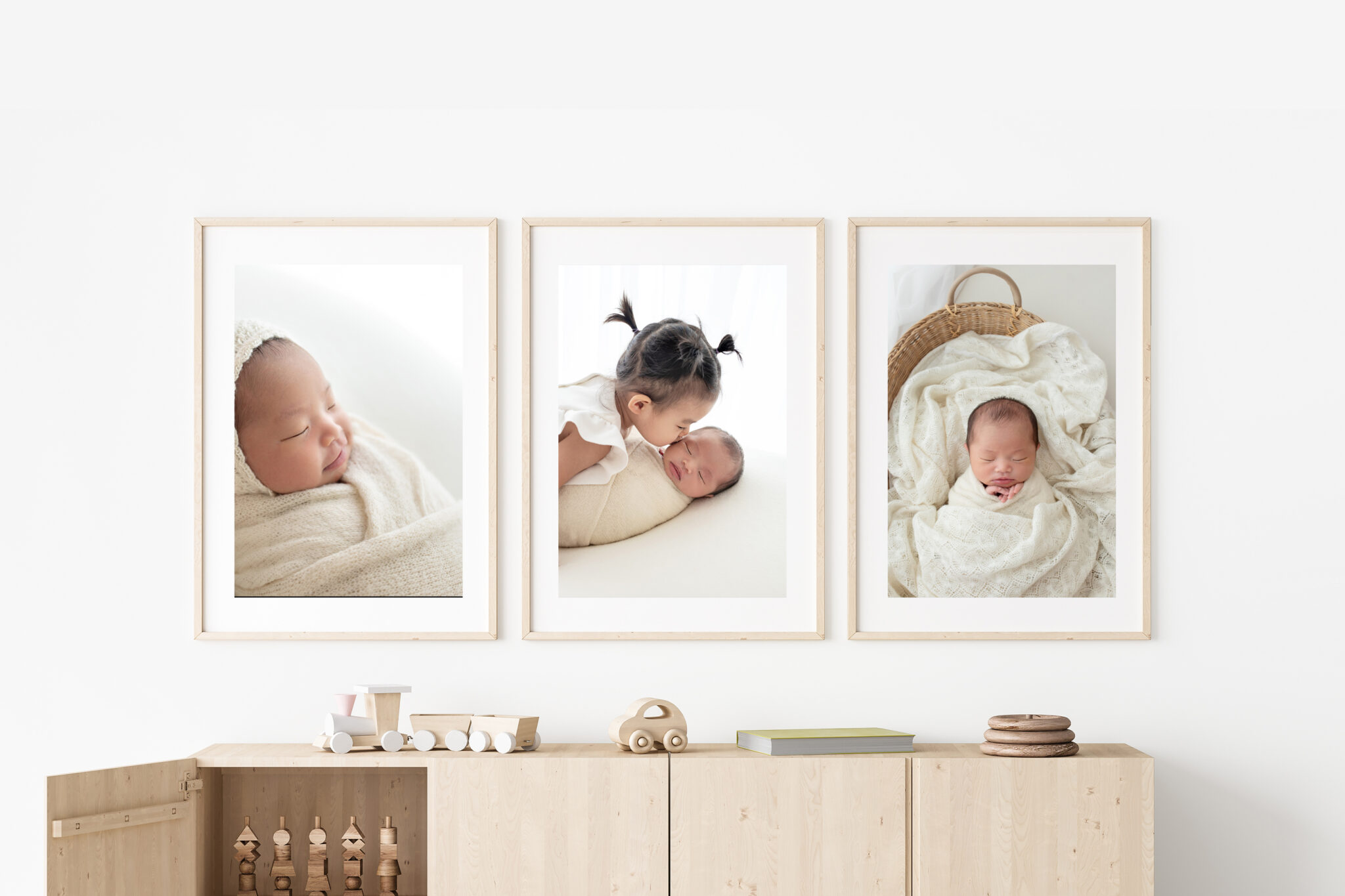 When you're ready to book, simply fill out our registration form, and I'll be in touch over email & phone. Please ensure you enquire early before your due date, as your session is subject to availability.
I can't wait to meet you soon. x
Claire