The Making of an Award winning Newborn Portrait …
As a Newborn Photographer, I get many beautiful little babies to cuddle and photograph, and present beautiful images to parents. However, there are times when you need to push your creative vision, strive for something crazy, and put yourself out there to be judged by the best in the business. The Queensland state Professional Photography Awards are for Photographers to put our daily images aside, go further/harder/stronger and really put ourselves out on a limb.
This idea came to me months ago while planning for my Award images. Sometimes during a regular Newborn session I see an image which has Award-winning potential, but there are other times when I start from scratch and build up from there. A few months ago I sketched out a concept but it seemed so far-fetched – crazy different, but not impossible, I knew I could get it, I just had no idea how.
I wanted a "model" of a Mother & Baby portrait. An accentuated mother figure – big wide hips, strong, encircling arms, never-ending, staring down at baby, holding her tight. Something that embodies every Mother. We are all different, but so similar. I wanted to show emotion, love, wholeness, support, trust.
I researched mother figures – Willow dolls, felt dolls, portraits of mothers, Pinterest boards, baby animals, you name it…! I'd never seen a photograph of this before, so when it all came together, I was pretty proud of my original concept 🙂
I wanted something pure, soft, cream/white, with total focus on the baby – and so this was born 🙂 It took me a couple of tries at getting the "mother figure" made, a beautiful little needle felted figurine. I knew what I wanted, so I kept going until I got it right, and in the end, the final design only took about 45 minutes to make.
Photographing the baby was the easy part – although gorgeous little Holly was so wide awake and chirpy that we only got 3 frames of this image – but enough to get it right!
With a little Photoshop magic, it all came together <3
Mother & Baby <3
Awarded a Silver Distinction (86 points), only 4 points off Gold – my next goal!!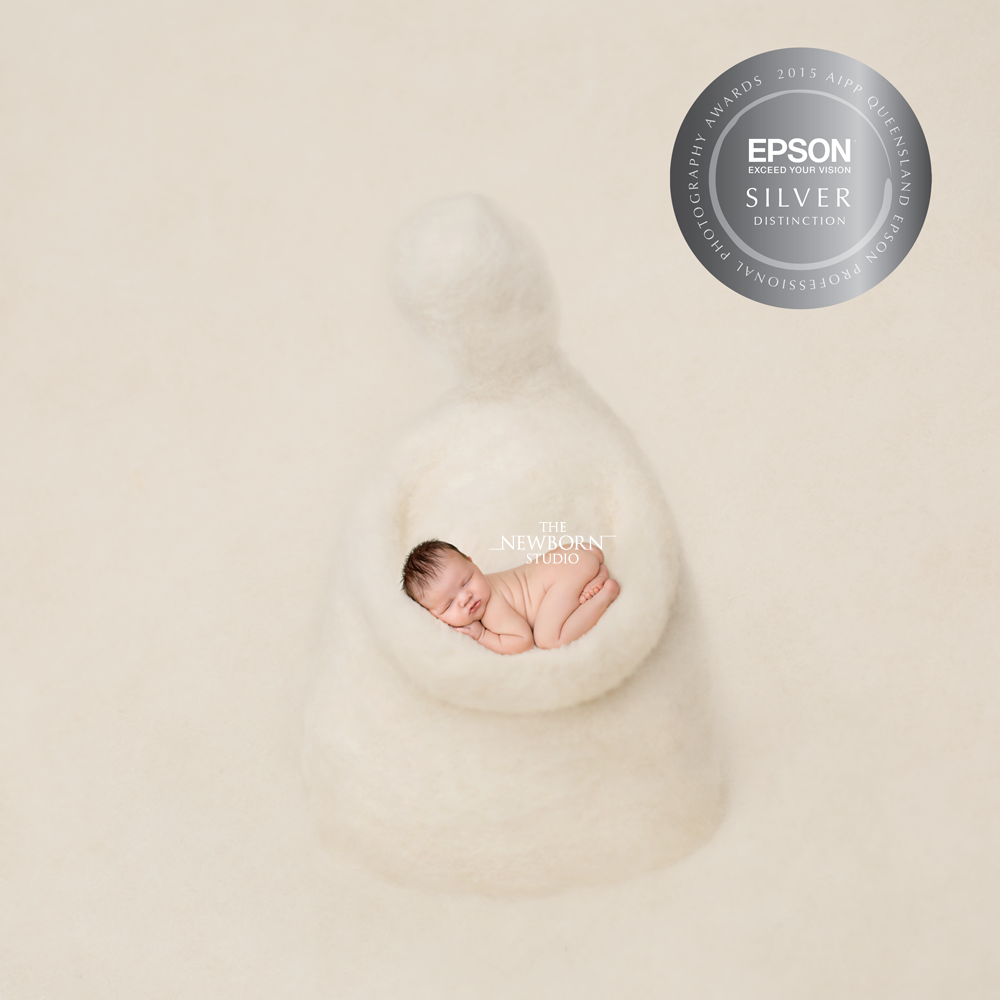 Thankyou to Holly's parents for trusting me to run with my ideas, to Stacey my fabulous Assistant, and thank you baby Holly for sleeping for at least 5 seconds while we snapped this shot 🙂
So looking forward to the National Awards later this year – ready to run with some new ideas! x
0